Positive impact of COVID-19 on mask production: Nepal moving towards self-sufficiency
December 1, 2020 | 7:34 pm&nbsp&nbsp&nbsp&nbsp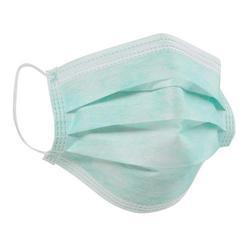 Keshav Raj Poudel / Kathmandu, Dec. 1: Face mask producers in Nepal have claimed that the country has become self-reliant in mask production, thanks to the shortage of face mask in the beginning of COVID-19 pandemic that motivated the business people toward mask production.
Raman Kayasthya, coordinator of proposed Nepal Mask Producer Association, said that Nepal had been progressively moving towards self-sufficiency in production of mask for both medical and general usage.
There are more than 43 large scale industries which can produce thousands of mask on a daily basis and there are over 100 medium to small scale industries in mask production.
According to Kayastha, Nepal can produce up to 2.5 million masks daily, if there will be high demand for the product in the market.
Saying that Nepali industrialists can meet the demand of the mask as needed by the country, Kayastha added that Nepal government should create a conducive environment for Nepali industrialists as Nepal is moving towards self- sufficiency in mask production.
Even though masks are being produced easily in the country, Nepal is importing masks from China and India, so government needs to pay heed to this issue, said Kayastha.
He said that millions of rupees have been invested in mask industry in the country.
He clarified that the Nepali mask industry can produce mask that is required in all hospital settings across the country. So, if the government provides all the needed support then the entrepreneurs are even willing to increase their investment to meet the demand.
Historical moment for mask producers
The Nepal government was preparing to gift 2 lakh bundles of masks to the Chinese government. The embassy officials were searching for Nepali masks in different pharmacies. At that time, COVID-19 terror was at its peak in China.
The high level officials of the Ministry of Industry were in hurry to bundle up 2 lakhs masks soon after the Nepal government decided to gift masks to the Chinese government.
At that time, in the coordination of Keshav Pudasaini, the head of the office of the small and rural industries in Kavre, industrialist Sukdev Joshi had provided about one lakh units of masks to the Government of Nepal.
Likewise, he had provided additional 10 thousand unit of masks personally to the government of China from his company located at Sanga in Kavre district.
After Nepal gifted masks to the Chinese government that were produced by the raw materials and machines brought from China, Joshi recalled that the Chinese Ambassador to Nepal praised Nepalis as kind and generous people.