Farmers of Tanahun earn millions from Orange farming
December 11, 2020 | 8:37 pm&nbsp&nbsp&nbsp&nbsp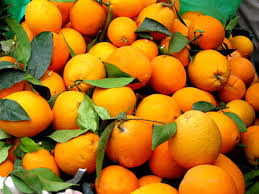 Amar Raj Naharki, Tanahun, Dec. 11: Farmers of Umachowk Village in Myagde Rural Municipality-2 have become millionaires this year through orange farming.
After orange farming in Umachowk Village started to thrive, the farmers of neighbouring villages in Myagde-1 and 3 also started commercial orange farming in association with the Umachowk Orange Block Operation Committee. They sold oranges worth over Rs. 20 million this year.
"The farmers of Umachowk Village earned Rs. 20 million from orange sale this year" said Nirmal Adhikari, coordinator of the committee.
Adhikari added that Suku Narayan Shrestha of Umachowk earned the highest by selling oranges worth Rs. 6 million.
Similarly, brothers Bishwa Bahadur Adhikari and Nirmal Adhikari jointly earned Rs. 6 million.
"Last year, I had earned Rs. 6.6 million from my orange farm where I had planted 1,000 oranges," said farmer Suku Narayan Shrestha. "This year, due to heavy rainfall during monsoon I earned half a million less than last year."
Kul Prasad Tiwari, chief of Agricultural Education Center, said that Umachowk was the model orange farm for the entire village.
The center had provided Rs. 2,272,493 to the Umachowk Orange Block Operation Committee for the promotion of orange farming.
"The amount was provided for the expansion of orange farming, operation of small irrigation programmes, improvement of farm and for plantation of oranges," said Tiwari.
According to Tiwari, Rs. 1.3 million was provided by the center on Fiscal Year 2076/77 for the promotion of orange farming.
Moreover, the operation committee said that the oranges produced in the district were exported to Damauli, Pokhara, Chitwan, and Kathmandu among others.
Mayadevi Rana, Chairman of Myagde Rural Municipality said, "As Umachowk Village has become a model village for orange farming, works for the improvement of road leading to the village has been going on to ease the transportation of the orange.
The orange farming is being done in 150-hectare land in Umachowk block where 27,913 oranges have been planted and 235 households are involved in farming. According to the committee, the village had sold oranges of over Rs. 22 million last year.
Meanwhile, a team in coordination of Shanti Raman Wagle, chief of District Coordination Committee, including local representatives and concerned stakeholders had visited the Umachowk Orange Block Area on Thursday in order to acknowledge the grievances of the farmers, solve their problems, and to inspect whether the facilities provided to them have been utilised properly or not.