Finance Minister claims budget intends to tackle pandemic
May 30, 2021 | 9:24 pm&nbsp&nbsp&nbsp&nbsp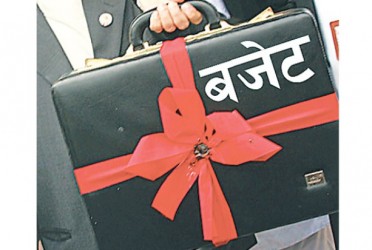 Kathmandu / May 30: The government has tried to establish its rationale behind the presentation of a full budget as being constitutional and feasible for implementation, despite the budget facing widespread criticism for being a 'populist and distributive' one enforced by a caretaker government.
Speaking at a press meet organized by the Ministry of Finance (MoF) on Sunday, Finance Minister Bishnu Prasad Poudel said that the constitution has mandatory provision for announcing the budget on the assigned date even in the absence of the federal parliament. "As there is no alternative provision in the constitution, it is crucial to implement the full budget at this moment of crisis created by COVID-19," he said.
Poudel expressed his commitment to effectively implementing the budget along with focusing on fighting against the ongoing risk of pandemic. "The government has considered saving the lives of people in its focused agenda and will leave no stone unturned to make vaccines available for all."
Stating that the government will be taking prompt action to move forward budget implementation, Poudel said the MoF is joining hands with the line ministries to formulate working guidelines for the same. "The government has carried out its responsibility to present the budget; it is not just to please voters," Poudel added.
Through the ordinance-based budget, the government has projected to achieve an economic growth rate of 6.5 percent in the next fiscal year. Similarly, it has revised a number of tax rates and allocated additional expenses for social security, which according to the analysts, are illegitimate actions by the caretaker government. "The Financial Act and the recently-endorsed ordinances have given space to the government to go into action related to these issues," Poudel said.
The budget has also invited criticisms from various fronts that the government's populist programs will create excess financial liabilities on the state in the long run. It is likely to increase the debt burden, according to the critics.
The government, however, said that additional expenses have been maintained within the fiscal framework. "We have managed the expenditure reasonably, based on source management," said Shishir Dhungana, secretary of the MoF.
According to him, they have considered the size of foreign loan for the next fiscal year in similar proportions as in the current fiscal year. "In addition, almost all the foreign assistance is tied up with progress of the projects. So, it will not provide any room for misappropriation of funds received from foreign donors."
Dhungana said the MoF will be coordinating with the line ministries to develop a mechanism to monitor project implementation. According to him, the government has recently enforced a separate law in which the ministries concerned can enforce working procedures in coordination with the MoF, unlike in the past when the guidelines were to be approved by the Cabinet for implementation.