State recognises Chhintang martyrs: Minister Rai
April 17, 2016 | 7:50 pm&nbsp&nbsp&nbsp&nbsp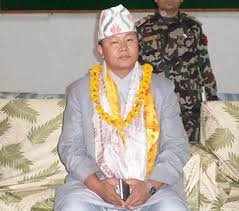 Dhankuta / April 17: Minister for Information and Communications Sherdhan Rai has assured that martyrs of Khoku Chhintang of Dhankuta district would be given the status of state martyrs soon.
Receiving a memorandum Sunday from the members of families of those who got martyrdom in Khoku Chhintang and Akhisalla incidents dating back some 37 years, Minister Rai who is also the government Spokesperson said the matter of giving the status of national martyrs to them was also discussed in the Cabinet and the announcement was delayed due to some technical reasons.
On the occasion, Jhalakman Rai from a martyr family drew the attention of the Minister towards a delay in recognising the martyrs of the Khoku Chhintang and Akhisalla as the state martyrs.
It may be noted that a total of 16 people had got martyrdom for voicing against the party-less Panchayat regime in 2036 BS. RSS