Five-year infrastructure strategic plan unveiled
April 17, 2016 | 9:07 pm&nbsp&nbsp&nbsp&nbsp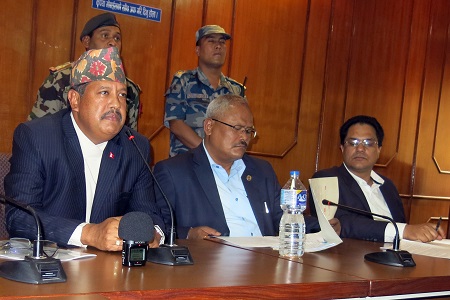 Purna Prasad Mishra (Kathmandu) / April 17: The Ministry of Physical Infrastructure and Transport has unveiled a five year strategic plan for the road, rail and transport development. It was endorsed by the Council of Ministers last month and unveiled through a press meet here Sunday.
The plan (2073- 2078 BS) lays a focus on the reconstructions of the earthquake-damaged 400 km section of Araniko Highway, BP Highway and Gorkha-Barpak road and 87 bridges.
On the occasion, it was informed that 135 km segment (integrated) of Dolakha-Singati, Panchkhal-Melamchi and Dhanding-Arughat-Gorkha roads will be upgraded within next three years as a model of reconstruction work.
The plan states that Dune of Dolpa and Simikot of Humla left to be connected with the road network will have the access to road service from the Chinese route within the next two years.
Roads linking to districts headquarters of Bhojpur, Khotang, Mustang, Bajura, Manag and Mugu will be blacktopped within this period.
On the occasion, Deputy Prime Minister and Minister for Physical Infrastructure and Transport Bijay Kumar Gachchhadar said road infrastructure is the essential to other development infrastructure. Now, there will be no construction of a single-lane road, at least two-lanes road will be constructed. A process to upgrade a single-lane road to a two-lane one was in offing.
The Cabinet is expected to take a decision regarding the construction of the Kathmandu-Terai fast track within the next few days, he added.
On the occasion, he directed the Department of Roads to complete the widening inner roads inside the Ring Road in the capital city.
The Ministry has the target of upgrading the major highways in the country to 'express way', the plan states.
The 588 km Kakarvitta-Butwal and the 439 km Butwal-Gaddachuaki sections along the East-West Highway will be upgraded to four-lanes within the next five years, according to Ministry Secretary, Arjun Kumar Karki.
Moreover, as the things go as per the plan, the 318 kilometre Dharan-Chatara-Gaighat-Katari-Sindhupalchowk-Hetauda and the 86 kilometre Tulsipur-Purandhara-Batechaur will be blacktopped within the next three years.
Likewise, the 310 Koshi corridor and the 390 km Kaligandaki corridor will be upgraded to two-lanes.
On the occasion, Director General at the Department of Transport Management Chandraman Shrestha said the Teku-based Driving Training Centre will come into operation within this fiscal year. RSS