Woman in labour pains airlifted to Kathmandu
November 2, 2016 | 9:31 pm&nbsp&nbsp&nbsp&nbsp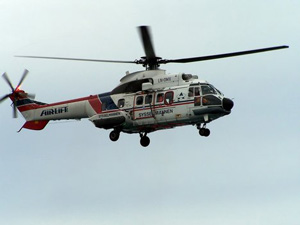 Gorkha / Nov 2: Aitamaya Gurung,24, a resident of Gumda-8 in northern Gorkha, who had been experiencing labour pains for the past three days but unable to give birth, was airlifted to Kathmandu on Wednesday.
She was taken on a helicopter to the maternity hospital in Thapathali, Kathmandu, according to a family member Santa Gurung. The local health centre failed to come to her rescue and hence had to be airlifted. The rescue work cost the family Rs. 130,000, which they accumulated in an emergency from friends and family.
The Gumda village where Aitamaya lives is almost a day's drive from the district headquarters. But regular public transportation is not available. Her husband Maili had gone on a trek expedition.
Lack of efficient health service in the remote part of the district compels the locals to hire expensive helicopter service in case of a complex medical health condition. RSS