Lumbini Zonal Hospital gets neonatal intensive care unit
November 4, 2016 | 9:31 pm&nbsp&nbsp&nbsp&nbsp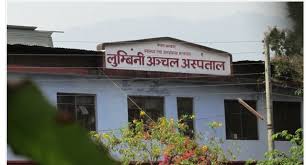 Rupandehi / Nov 4: The Lumbini Zonal Hospital has introduced neonatal intensive care unit (NICU).
The service has come into force from today following its inauguration by Health Minister Gagan Kumar Thapa. Installed at the cost of Rs 10 million from the Department of Health Services and the hospital, the service is expected to decrease infant mortality rate, increase the number of pregnant women visiting the hospital for delivery and end the compulsion of referring newborns to elsewhere for further treatment.
The hospital was established in 1967. Out of 30 to 35 babies born at the hospital on a daily basis, about 10 require admission to NICU for further treatment, the hospital management said. Eight beds have been allocated for the service.
One is provided with the service at relatively cheaper rate as compared to private hospital, said the hospital Medical Superintendent Dr Bikash Devkota.
For the facility, five doctors including medical officer and paediatrician, 12 staff nurses and five hospital employees have been employed, he added.
Meanwhile speaking at the inaugural programme, Minister Thapa said the government was committed to implementing the citizen health insurance to ensure citizen health service.
He stressed the need for focusing and taking initiatives for government hospitals to provide quality services and to equip them with necessary medical equipment to end the compulsion of people to visit private health institutions for treatment.
Minister Thapa also directed private hospitals to implement the agreement to allocate at least 10 percent beds for the poor people. "Otherwise, licenses of hospital owners flouting the agreement will not be renewed," he said. RSS