RPP and RPP-N merger takes place; Hinduism as it is
November 21, 2016 | 10:06 pm&nbsp&nbsp&nbsp&nbsp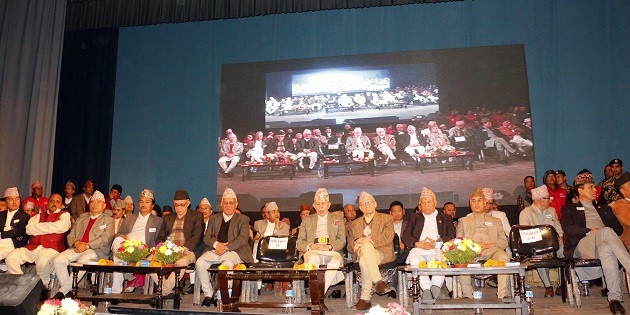 Kathmandu / Nov 21: The official merger between the Rastriya Prajatantra Party (RPP) and Rastriya Prajatantra Party-Nepal (RPP-N) — the parties of leaders with political background of party-less Panchayati regime— has taken place on Monday.
At a function organized at Nepal Academy in the capital, RPP-N Chairperson Kamal Thapa and RPP Chairperson Pashupati Shumsher Rana signed the accord on party integration.
With the merger, the party shall be called 'Rastriya Prajatantra Party' and the party flag shall reflect the symbol of cow. The responsibility of national chairperson will be held by Rana while Thapa will take charge of chairperson of the integrated party.
RPP-N was established as a party in 2062 BS as a breakaway faction of RPP — that went through merger and splits several times.
Now the integrated RPP would have representation of 30 lawmakers in the Legislature-Parliament.
It is learnt that the general convention of the party would decide which political system — monarchy or republic — to adopt.
Addressing the party merger function, RPP Chairperson Kamal Thapa said that the unification of two parties has heralded an emergence of a strong nationalist force. "RPP will remain as an alternative political front in the country. The experienced and courageous leaders having public trust would provide able leadership to the party", he added.
Hinduism as it is
The Rastriya Prajatantra Party advocating for prosperous Nepal on the basis of nationality, democracy and Hinduism would take ahead the nationality as the optimum end, while democracy as essential basis and the Hinduism as cultural and social values, said RPP parliamentary party leader Thapa.
The unification of the RPPs has added new chapter in Nepali politics and given fresh energy to the party, he said, adding, "Time has come for us to become stronger in national politics. The leaders and cadres should work with high morale," he underscored.
Similarly, national chairman of the party, Rana said, "In the country where there are 90 per cent Hindu people, the provision of secularism should be wiped out from constitution. If referendum is not held on whether to keep Hinduism intact, RPP would wage a struggle."
Former prime minister and senior leader Lokendra Bahadur Chand suggested that the general convention of the party should be utilized as an opportunity to create a basis for coming election.
Another senior leader Dr Prakash Chandra Lohani said the RPP which has internalized nationality, democracy and liberalism should work to foil the machination against Hinduism and Buddhism.
Moreover, another senior leader Bishwobandhu Thapa suggested the party that it showed unity up to the cadres' level . RSS