Nepal ready to work together with Indonesia: PM Dahal
January 19, 2017 | 10:27 pm&nbsp&nbsp&nbsp&nbsp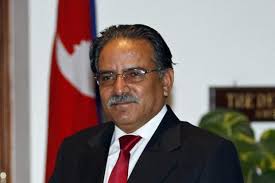 Kathmandu / Jan 19: Iwan Wiranata-atmadja, Ambassador of the Republic of Indonesia to Nepal, has paid a courtesy farewell call on Prime Minister Pushpa Kamal Dahal at his official residence, Baluwatar today.
The Indonesian ambassador is returning home after completing four-year tenure.
On the occasion, PM Dahal thanked the ambassador and Indonesia for their support during the post-quake period in Nepal. It may be noted that Indonesia had sent a medical and rescue team during the aftermath of the April 25, 2015 earthquake in Nepal.
According to the PM's secretariat, PM Dahal in the meeting said Nepal was ready to work together with Indonesia in tourism, hydropower and economic sectors while adding that the Indonesian history and culture was educational to him.
Similarly, ambassador Wiranata-atmadja shared that Indonesia was arranging free and on-arrival visa to Nepalis.
Present on the occasion was honourary Nepali ambassador to Indonesia, Chandra Dhakal. RSS