Thanks to Dhurmus-Suntali Foundation, Musahar children in Mahottari start going school
March 15, 2017 | 10:25 pm&nbsp&nbsp&nbsp&nbsp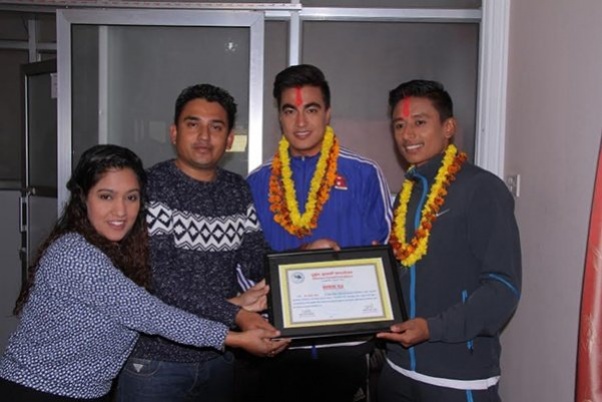 Gaushala / March 15: Some 60 families of Musahar community in Mahottari have started sending their children to school due to the motivation of Nepali comedian artistes Kunjana Ghimire (Suntali) and Sitaram Kattel (Dhurmus).
Musahar children who used to be sighted on the bank of the local Rato Stream sieving sand and harvesting pebbles, and collecting firewood from the jungle earlier are now no longer busy in such menial labour as they have started going to schools.
Parents of the Musahar community based in Bardibas Municipality-2 realised that they had to send their offspring to school instead sending them to work.
Suntali and Dhurmus, who won the hearts of Nepali audiences through their comedian characters in a Nepali tele-serial Meri Bassai, decided to lend their helping hands in rebuilding the earthquake-flattened village in Sindhupalchwok after the recent major earthquake in the country. Side by side, the Dhurmus-Suntali Foundation established by this generous couple got engaged in the construction of a community shelter in the Musahar village in Mahottari and continued to encourage the Musahar parents to send their children to school.
The Foundation launched various awareness-raising programmes in the Musahar settlement and as a result of this, now 64 children here go to Bardibas-based Janata Higher Secondary School. The settlement is home to 375 people of 60 Musahar families.
The school enrolment statistics put the number of Musahar children enrolled at a pre-primary class is 24 while it is 17 in class one, 16 in class two and six in class three.
The Musahar children have geared up for keeping their locality neat and clean by forming a child club. The police administration and Bardibas Chamber of Commerce and Industry have joined hands with the Foundation in its efforts to make Musahar kids educated.
The Bardibas Municipality Office has constructed a building at a cost of Rs 700,000 at Janata Higher Secondary School where Musahar children have been enrolled, targeting the newcomers.
School principal Narayan Prasad Adhikari said he is hopeful of seeing a notable numbers of Mushar children in school classrooms in the days ahead in the context of social organisations becoming more sensitive towards the education of Mushar children. The latest national census puts the population of Musahar, a backward Dalit community of Terai, at 234,490 and the literacy rate in the Musahar community is just seven percent. RSS