Japan's former PM Yukio Hatoyama sees need of investment-friendly atmosphere in Nepal; pays courtesy call on PM Dahal
March 21, 2017 | 10:32 pm&nbsp&nbsp&nbsp&nbsp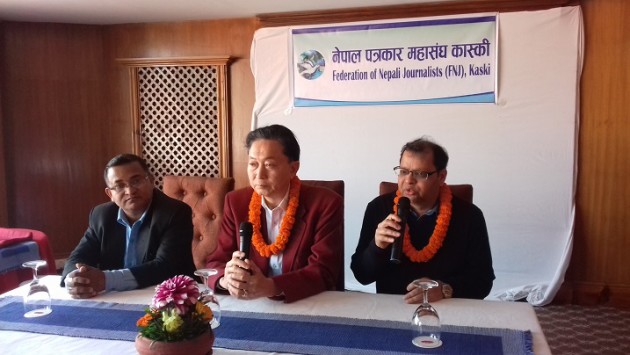 Pokhara / March 21: Japan's former Prime Minister Yukio Hatoyama has insisted on the need of building an investment-friendly atmosphere in Nepal.
Speaking at a press meet today organised by the Federation of Nepali Journalists (FNJ) Kaski chapter, the Japanese former Prime Minister said Nepal has abundant potentials of development, but the creation of an atmosphere favourable for investment is needed so as to materialise such potentialities.
Nepal's youth human resources need to go abroad for employment due to lack of proper development of industries and factories at home, he said, suggesting the development of small and medium-scale industries to engage youth power in finance-generation activities within the country.
Japan was struck by a major earthquake in 2011 like that of one Nepal suffered recently and it was essential to expedite the post-quake reconstruction works with a high priority, he asserted.
Describing the natural beauty of Pokhara, Mr Hatoyama said it is a tourist city and environment-friendly tourism infrastructure should be developed here.
Programmes of international –level, as he said, can be conducted in Pokhara to boost up its image and identity in the international arena. Arrivals of Japanese tourists in Nepal will go up if Nepal and Japan are connected by direct flight.
Former Japanese PM Hatoyama pays courtesy call on PM Dahal
Meanwhile, Former Prime Minister of Japan Hatoyama paid a courtesy call on Prime Minister Pushpa Kamal Dahal at latter's official residence, Baluwatar, on Tuesday.
The meeting between the two leaders is said to have focused on mutual relations between Nepal and Japan.
During the meeting, PM Dahal said the exchange of high level visits by officials of both Nepal and Japan would make ties between both the countries more dynamic while noting that there are intimate relations between both the countries, said PM Dahal's press advisor Govinda Acharya.
PM Dahal also said the Nepal was pursuing economic development and prosperity after institutionalising political change while informing that the government was in the process to hold local level elections as part of implementing the new constitution, added Acharya.
He also thanked Japanese government for providing economic aid in the post-earthquake reconstruction and providing fund for development projects like a tunnel way.
In response, Dr Hatoyama extended best wishes to PM Dahal for Nepal is pursuing economic development and prosperity alongside the constitution enforcement.
Meanwhile, ambassador of the United Arab Emirates to Nepal Saeed Hamdan Al Naqei paid a courtesy call on PM Dahal at latter's official residence, Baluwatar.
During the meeting, PM Dahal is said to have thanked the UAE government for providing assistance in various sectors in Nepal while saying there are mutual ties between both Nepal and UAE.
On the occasion, Naqei expressed gratitude for cooperation and harmony received from the Government of Nepal and its people. He offered UAE's investment pledge in physical infrastructure areas for the development of Nepal. RSS