Nobody can stop election: PM Dahal
April 20, 2017 | 8:59 pm&nbsp&nbsp&nbsp&nbsp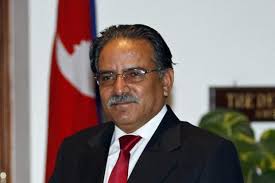 Birtamode / Apr. 20: Prime Minister Pushpa Kamal Dahal has said that no force can stop the May 14 local level elections from taking place.
Addressing the district convention of Young Communist League and ANFFSU (Revolutionary), the sister organizations of his party CPN (Maoist Center) here Thursday, he said elections were inevitable for institutionalizing the rights achieved through a long struggle of the people.
Prime Minister Dahal, who is also the Chairman of the CPN (MC), said some friends do not want the elections for fear of losing in it. "The people themselves will answer those who come out in protest of elections at any pretext," he said.
The election taking place after a gap of twenty year would empower the people and reach power from Singha Durbar to the villages, he said while appealing to all to partake in the election. The Prime Minister also expressed dismay over the rejection of the second constitution amendment proposal registered at the parliament, which he claimed, was introduced as per an understanding with the Madhesi morcha.
Prime Minister Dahal also shared that he is holding another round of talks with the Madhesh-centric parties on Friday.
On the occasion, Minister for Information and Communications Surendra Kumar Karki said that the local level elections would be held on May 14 despite some elements trying their best to foil the making of the local government.
"Some friends are working to disrupt the polls at a time when the oppressed classes are getting rights after a long struggle. It's for sure the elections would be held at any cost," Karki said.
Likewise, CPN (Maoist Centre) leader Barshaman Pun accused the Madhes-centric parties of trying to escape the polls despite utmost efforts to forge consensus.
CPN (Maoist Centre) Province No.1 In-charge, Gopal Kiranti, claimed that the Madhesi Morcha and Naya Shakti were not wanting the elections to happen while the CPN (UML) was piling pressure to postpone the elections.
YCL leader Dambar Pulami, ANNISU (Revolutionary) Spokesperson Surendra Basnet, CPN (Maoist Center) leader Dharmashila Chapagain, lawmaker JB Tuhure, YCL General Secretary Dipshikha and ANNISU (Revolutionary) Central Vice-Chairman Ranjit Tamang also expressed their opinion at the program. RSS