Five Madhesi parties unify to form Rastriya Janata Party
April 20, 2017 | 8:59 pm&nbsp&nbsp&nbsp&nbsp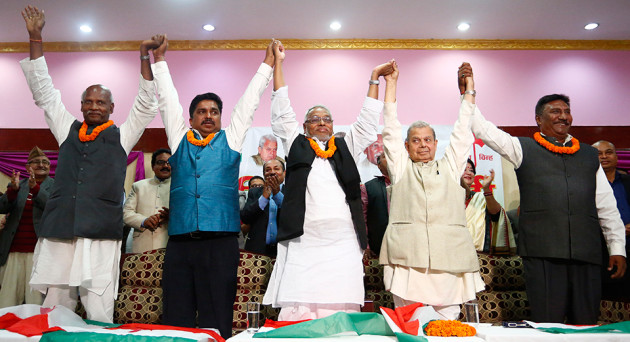 Kathmandu / Apr. 20: After a series of discussions, five Madhesi parties on Thursday underwent merger to form Rastriya Janata Party (RJP).
The five parties that have merged into a single party include Mahantha Thakur-led Tarai Madhesh Democratic Party (TMDP), Rajendra Mahato-led Sadbhavana Party (SP), Mahendra Raya Yadav-led Terai Madhes Sadbhavana Party, Sarat Singh Bhandari-led National Madhesh Socialist Party (NMSP) and Raj Kishore Yadav-led Madhesi People's Rights Forum-Republican (MPRF-R).
The five parties have altogether 23 lawmakers in the Parliament.
Leaders said they are holding negotiations with Anil Jha-led Nepal Sadbhavana Party also to be part of the unification.