4,888 representatives elected in 115 local units; with the list of winning chairpersons/mayors
May 18, 2017 | 9:47 pm&nbsp&nbsp&nbsp&nbsp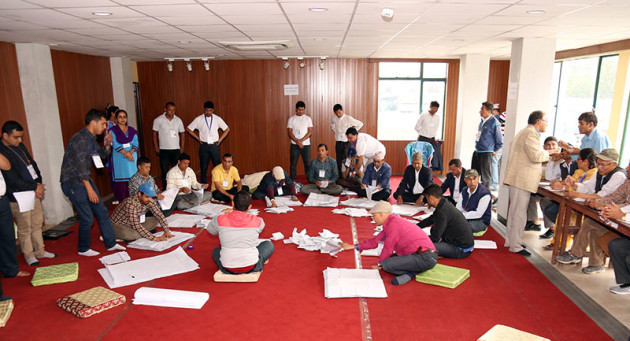 Kathmandu / May 18: The Election Commission on Thursday informed that 4,888 representatives in 115 local bodies have been elected in 34 districts of Province number 3, 4 and 6.
EC Spokesperson Surya Prasad Sharma informed that 115 candidates were elected as mayors, 115 candidates as deputy mayors, 1126 candidates as ward chiefs and 1792 candidates as ward members, 898 candidates as women representatives and 842 candidates as Dalit members.
Sharma further said that as of Thursday evening, 2 per cent votes were found invalid in course of counting the ballots that were cast on May 14 local level polls.
He also said that the Election Commission has requested all the concerned political parties and independent candidates to remove the electoral advertising and campaign materials such as pamphlets, stickers, banners used during the first round of polls in the public areas.
EC spokesperson Sharma also said that the preparations for the second phase of local polls are underway. The first phase of local level elections were held on May 14 to select representatives in 281 local bodies.
Winning chairpersons/mayors
Baglung
Tamankhola Rural Municipality, Baglung – Jokh Lal Budha – NC
Nishikhola Rural Municipality, Baglung – Tara Nath Paudel – NC
Tarakhola Rural Municipality, Baglung – Prakash Gharti – MC
Kathekhola Rural Municipality, Baglung – Amar Thapa -UML
Bareng Rural Municipality, Baglung – Krishna Prasad Sharma – Janamorcha
Galkot Municipality, Baglung – Bharat Sharma -NC
Dhorpatan Municipality, Baglung – Dev Kumar Nepali -UML
Badigad Rural Municipality, Baglung – Mehar Singh Paija – UML
Baglung Municipality, Baglung – Janak Paudel – UML
Gorkha
Chumnubri Rural Municipality, Gorkha – Dhan Bahadur Gurung- NC
Gandaki Rural Municipality, Gorkha – Hom Bahadur Rana Magar -NC
Siranchok Rural Municipality, Gorkha – Raju Gurung – NC
Ajirkot Rural Municipality, Gorkha – Fadindra Dhital – NC
Dharche Rural Municipality, Gorkha – Santa Bahadur Gurung – NC
Arughat Municipality, Gorkha – Purna Dahal – NC
Sulikot Municipality, Gorkha – Bishnu Bhatta – MC
Sahid Lakhan Rural Municipality, Gorkha – Ramesh Thapa -MC
Palungtar Municipality – Deepak Babu Kandel – NC
Kaski
Madi Rural Municipality, Kaski – Bed Bahadur Gurung -UML
Rupa Rural Municipality, Kaski- Nawa Raj Ojha – UML
Machhapuchchhre Rural municipality, Kaski – Karna Gurung -UML
Annapurna Rural Municipality, Kaski – Yuvaraj Kunwar – NC
Lamjung
Madhya Nepal Municipality, Lamjung – Ramesh Kumar Pandey NC
Doodh Pokhari Rural Municipality, Lamjung – Chhupi Maya Gurung NC
Marshyangdi Rural Municipality, Lamjung – Arjun Gurung – UML
Dordi Rural Municipality, Lamjung – Om Bahadur Gurung – MC
Sundar Bazar Rural Municipality, Lamjung – Janak Mishra – UML
Manang
Nasong Rural Municipality, Manang-Chandra Ghale – NC
Narfu Rural Municipality, Manang- Mingma Tsering Lama – NC
Chame Rural Municipality, Manang- Lokendra Ghale – UML
Nesyang Rural Municipality, Manang- Kancha Ghale – UML
Mustang
Dalome Rural Municipality, Mustang- Lopthang Tsering Bista (Raju) – Independent
Gharapjhong Rural Municipality, Mustang- Aas Bahadur Thakali – UML
Barhagaun Mukti Kshetra Rural Municipality, Mustang- Phensok Chhopten Gurung – NC
Lomangthang Rural Municipality, Mustang-Subarna Bista – NC
Thasang Rural Municipality, Mustang – Buddhi Prasad Serchan – NC
Myagdi
Malika Rural Municipality, Myagdi – Shree Prasad Roka – NC
Beni Municipality, Myagdi – Hari Kumar Shrestha – NC
Dhaulagiri Rural Municipality, Myagdi – Thamsara Pun – UML
Annapurna Rural Municipality, Myagdi – Dum Bahadur Pun -NC
Raghuganga Rural Municipality, Myagdi – Bhaba Bahadur Bhandari – NC
Mangala Rural Municipality, Myagdi – Sat Prasad Roka – UML
Nawalparasi
Bungdeekali Rural Municipality, Nawalparasi – Durga Bahadur Rana – NC
Triveni Binayi Rural Municipality, Nawalparasi – Dambar GC – NC
Hupsekot Rural Municipality, Nawalparasi – Laxmi Pandey – NC
Bulingtar Rural Municipality, Nawalparasi – Shashi Kiran Bastakoti – NC
Madhyabindu Municipality, Nawalparasi -Chandra Bahadur Rana -NC
Gaidakot Municipality, Nawalparasi – Chhatra Raj Paudel – UML
Parbat
Paiyu Rural Municipality, Parbat – Khagendra Prasad Tiwari – NC
Jaljala Rural Municipality, Parbat – Yam Bahadur Malla -NC
Bihadi Rural Municipality, Parbat – Kamal Prasad Bhusal UML
Mahashila Rurla Municipality, Parbat – Raju Prasad Paudel – UML
Phalebas Rural Municipality, Parbat – Padam Pani Sharma – UML
Modi Rural Municipality, Parbat – Prem Prasad Paudel – UML
Kushma Municipality, Parbat – Ram Chandra Joshi – NC
Syangja
Phedikhola Rural Municipality, Syangja – Ghanashyam Subedi – UML
Harinas Rural Municipality, Syangja – Khim Narayan Manandhar -UML
Aandhikhola Rural Municipality, Syangja – Sudheer Paudel – UML
Kaligandaki Rural Municipality, Syangja – Khim Thapa Magar – UML
Galyang Municipality, Syangja – Bhupa Raj Adhikari – UML
Biruwa Rural Municipality, Syangja – Sun Prasad Sharma -UML
Chapakot Municipality, Syangja – Shiva Kumar Giri – NC
Arjunchaupari Municipality, Syangja – Dirgha Narayan Aryal – NC
Bheerkot Municipality, Syangja – Chayaram Khanal – NC
Tanahu
Bandipur Rural Municipality, Tanahu – Purna Singh Thapa – MC
Devghat Rural Municipality, Tanahu – Durga Bahadur Thapa – UML
Ghiring Rural Municipality, Tanahu – Rana Bahadur Rana – UML
Rising Rural Municipality, Tanahu – Rajendra Krishna Shrestha – NC
Myagde Rural Municipality, Tanahu – Maya Rana – NC
Abukhaireni Rural Municipality, Tanahu – Geer Bahadur Thapa – NC
Bhimad Municipality, Tanahu – Mekh Bahadur Thapa – UML
Byas Municipality, Tanahu – Baikuntha Neupane – NC
Shukla Gandaki Municipality, Tanahu – Kishan Gurung – NC
Chitwan
Ichchha Kamana Rural Municipality, Chitwan – Geeta Gurung – NC
Dhading
Siddalek Rural Municipality, Dhading – Prem Nath Silwal -UML
Dhunibesi Municipality, Dhading – Bal Krishna Acharya – UML
Ruby Valley – Kerung Tamang – RPP
Netrawati – Durga Kumar Shakya – UML
Thakre – Ram Kumar Acharya – UML
Ganga Jamuna RMC- Bal Bahadur Adhikari – UML
Jwalamukhi – Binod Timalsina – NC
Khaniyabas – Rana Bahadur Tamang – NC
Galchhi – Krishna Hari Shrestha – UML
Benighat Rorang – Hari Dallakoti – MC
Tripura Sundari – Shambhu Thapa – UML
Dolakha
Jiri Municipality, Dolakha – Tanka Jirel – UML
Gaurishankar Rural Municipality, Dolakha – Swayam Bahadur Khadka – UML
Baitashor Rural Municipality, Dolakha – Chabi Lama – NC
Bigu Rural Municipality, Dolakha – Yudhisthir Khadka – NC
Shailung Rural Municipality, Dolakha – Bharat Dulal -UML
Tama Koshi Rural Municipality, Dolakha – Ishwar Chandra Pokharel – UML
Kathmandu
Shankarapur Municipality – Subarna Shrestha – UML
Dakshinkali Municipality – Mohan Basnet – NC
Kavrepalanchok
Bethanchok Rural Municipality, Kavre – Prem Bahadur Timalsina – NC
Khanikhola Rural Municipality, Kavre – Krishna Bahadur Khulal – UML
Bhumlu Rural Municipality, Kavre – Guman Dhoj Kunwar – UML
Temal Rural Municipality, Kavre – Salam Singh Lama – NC
Roshi Rural Municipality, Kavre – Dal Bahadur Lama -NC
Mahabharat Rural Municipality, Kavre- Kanchha Man Jimba – MC
Lalitpur
Konjyosom Rural Municipality, Lalitpur – Gopi Lal Syangtan – MC
Mahankal Rural Municipality, Lalitpur – Ram Chandra Dahal – UML
Bagmati Rural Municipality, Lalitpur – Bir Bahadur Lopchan – NC
Godawari Municipality, Lalitpur – Gajendra Maharjan – NC
Makawanpur
Makawanpur Gadhi Rural Municipality, Makawanpur – Bidur Humagain – UML
Indra Sarovar Rural Municipality, Makawanpur – Jeevan Lama – UML
Kailash Rural Municipality, Makawanpur – Tanka Motan – UML
Bhimphedi Rural Municipality, Makawanpur – Hidam Lama -UML
Bagmati Rural Municipality, Makawanpur – Sarkesh Ghalan – MC
Bakaiya Rural Municipality, Makawanpur -Damodar Khanal – NC
Thaha Municipality, Makwanpur – Lab Sher Bista – MC
Nuwakot
Kispang Rural Municipality, Nuwakot – Chhatra Bahadur Lama – NC
Tadi Rural Municipality, Nuwakot – Narayan Pandey – NC
Dupcheshwar Rural Municipality, Nuwakot – Yovindra Tamang -NC
Likhu Rural Municipality, Nuwakot – Dhruba Shrestha -NC
Tarkeshwore Rural Municipality, Nuwakot – Ramesh Wasti – UML
Meghang Rural Municipality, Nuwakot- Aash Bahadur Tamang – NC
Ramechhap
Gokulganga Rural Municipality, Ramechhap – Khadga Sunuwar – UML
Umakunda Rural Municipality, Ramechhap – Sher Bahadur Sunuwar- UML
Manthali Municipality, Ramechhap – Ramesh Basnet – UML
Likhu Rural Municipality, Ramechhap – Gobinda Khadka – UML
Doramba Rural Municipality, Ramechhap -Kaman Singh Moktan – MC
Rasuwa
Gosaikunda Rural Municipality, Rasuwa – Kesang Nurpu Tamang – UML
Naukunda Rural Municipality, Rasuwa – Nurpu Syangbu Gahle – NC
Uttar Gaya Rural Municipality, Rasuwa – Upendra Lamsal – NC
Kalika Rural Municipality, Rasuwa – Sita Kumari Paudel – UML
Parbati Kunda Rural Municipality, Rasuwa – Buchung Tamang – FSFN/Naya Shakti
Sindhuli
Golanjor Rural Municipality, Sindhuli – Pushpa Bahadur Karki – NC
Ghyanglek Rural Municipality, Sindhuli – Jagat Bahadur Bholan – NC
Marin Rural Municipality, Sindhuli – Pani Raj Bamjon – MC
Hariharpurgadhi Rural municipality, Sindhuli – Karsang Lama – MC
Phikal Rural Municipality, Sindhuli – Dhana Bahadur Karki – UML
Tinpatan Rural Municipality, Sindhuli – Karna Bahadur Thapa – NC
Kamalamai Municipality, Sindhuli – Khadga Khatri – UML
Sindhupalchok
Lisankhu-Pakhar Rural municipality, SindhuPalchowk – Kamal Nepal – UML
Balefi Rural Municipality, Sindhupalchowk – Kedar Chhetri – UML
Jugal Rural Municipality, Sindhupalchowk – Hom Narayan Shrestha -UML
Panchpokhari Thangpal Rural Municipality, Sindhupalchowk – Tashi Lama Hyalmo – UML
Chautara Sangachowk Gadhi Municipality, Sindhupalchowk – Aman Singh Tamang – MC
Bhotekoshi Rural Municipality, Sindhupalchowk – Rajkumar Paudel – MC
Helambu Rural Municipalit, Sindhupalchowk – Neema Gyaljen Lama -NC
Melamchi Municipality, Sindhupalchowk – Dambar Aryal – UML
Barhabise Municipality, Sindhupalchowk – Nimfunjo Sherpa – UML
Dailekh
Dungeshwar Rural Municipality, Dailekh – Nagendra Malla NC
Gurans Rural Municipality, Dailekh – Khemraj Oli – NC
Naumule Rural Municipality, Dailekh – Bhabi Ram Budha – NC
Dullu Municiapality, Dailekh – Ghanashyam Bhandari – NC
Narayan Municipality, Dailekh – Ratna Bahadur Khadka – UML
Chamunda Bindrasaini Municipality, Dailekh – Surya Prasad Shahi -UML
Thantikandh Rural Municipality, Dailekh – Dheer Bahadur Shahi – UML
Bhairabi Rural Municipality, Dailekh – Prem Bahadur Budha – UML
Mahabu Rural Municipality, Daiekh – Junga Bahadur Shahi – UML
Bhagawati Mai Rural Municipality, Dailekh – Dan Bahadur Thapa -UML
Aathbiskot Rural Municipality, Dailekh – Khanga Raj Upadhyaya – UML
Dolpa
Kaike Rural Municipality, Dolpa- Angad Rana – UML
Thulibheri Municipality, Dolpa – Ganesh Bahadur Shahi – UML
Jagadulla Rural Municipality, Dolpa- Narsingh Rokaya – MC
Munkechula Rural Municipality, Dolpa- Datta Bahadur Shahi – MC
Dolpo Buddha Rural Municipality, Dolpa – Temba Gurung – Independent
Chharka Rural Municipality, Dolpa – Sonang Gurung – Independent
Se-Phoksundo Rural Municipality, Dolpa- Tasi Tunduk Gurung – UML
Tripura Sundari Municipality, Dolpa – Om Bahadur Budha – UML
Humla
Tajakot Rural Municipality, Humla – Bagdal Malla – MC
Adanchuli Rural Municipality, Humla – Dal Phadera – UML
Chankheli Rural Municipality, Humla – Dhanmal Chaulgain – MC
Simikot Rural Municipality, Humla – Padam Bahadur Lama – NC
Namkha Rural Municipality, Humla – Bishnu Lama – MC
Sarkegad Rural Municipality, Humla – Krishna Rokaya – MC
Jajarkot
Kushe Rural Municipality, Jajarkot – Hari Chandra Basnet – NC
Barekot Rural Municipality, Jajarkot – Mahendra Bahadur Shah – NC
Shivalaya Rural Municipality, Jajarkot – Narendra Kumar Shahi – UML
Bheri Municipality, Jajarkot – CP Gharti – UML
Chhedgad Municipality, Jajarkot – Lal Bahadur Mahatara – UML
Tribeni Nalgadh Municipality, Jajarkot – Tek Bahadur Rawal – MC
Junichade Rural Municipality, Jajarkot – Krishna Bahadur KC – MC
Jumla
Sinja Rural Municipality, Jumla – Dewal Singh Rawal – NC
Patarasi Rural Municipality, Jumla – Laxman Bohara – NC
Guthichaur Rural Municipality, Jumla- Hari Bahadur Bhandari – MC
Hima Rural Municipality, Jumla – Raj Bahadur Shahi – MC
Tila Rural Municipality, Jumla – Ratan Nath Yogi – UML
Kanaka Sundari Rural Municipality, Jumla – Narbir Rawat – NC
Chandannath Municipality, Jumla – Kantika Sejuwal – NC
Tatopani Rural Municipality, Jumla – Nawaraj Neupane – MC
Kalikot
Sanni Triveni Rural Municipality, Kalikot-Dambar Shahi – MC
Raskot Municipality, Kalikot – Kashi Chandra Baral – MC
Pachal Jharana Rural Municipality – Khadaraj Sejuwal – MC
Palata Rural Municipality – Laxman Bam -MC
Khadachakra Municipality, Kalikot -Jashi Prasad Pandey -UML
Mugu
Karmarong Rural Municipality, Mugu – Chhiring Gyamne Lama – NC
Chhayanath Rara Municipality, Mugu – Hari Jung Shahi NC
Khatyad Rural Municipality, Mugu – Ubjan Shahi UML
Rukum
Sani Bheri Rural Municipality, Rukum – Nar Bahadur Pun – MC
Musikot Municipality, Rukum – Devi Lal Gautam – MC
Banfikot Rural Municipality, Rukum – Dharma Bahadur KC – MC
Tribeni Rural Municipality, Rukum – Jhakku Prasad Gharti -MC
Chaurjahari Municipality, Rukum – Bishal Sharma – MC
Aathbiskot Municipality, Rukum – Gorkha Bahadur KC -MC
Salyan
Dhorchaur Rural Municipality, Salyan – Chitra Bahadur Chalaune – UML
Darma Rural Municipality, Salyan – Nim Bahadur KC – MC
Bagchaur Municipality, Salyan – Lok Man Budhathoki – MC
Chhatreshwari Rural Municipality, Salyan – Santosh KC – NC
Kapoorkot Rural Municipality, Salyan – Bhim Bahadur Sen – UML
Tribeni Rural Municipality, Salyan – Man Bahadur Dangi – NC
Kalimati Rural Municipality, Salyan – Dan Bahadur KC – UML
Bangad Kupinde Rural Municipality, Salya – Govinda Pun – UML
Surkhet
Chidgad Rural Municipality, Surkhet – Dev Bahadur Chand — NC
Barhatal Rural Municipality, Surkhet -Tej Bahadur Basnet–NC
Gurbhakot Municipality, Surkhet – Hasta Pun – NC
Lekbesi Municipality, Surkhet – Gagan Singh Sunar – UML
Simta Rural Municipality, Surkhet – Kabindra Kumar KC – UML