Parties agree to end House obstruction
June 5, 2017 | 9:31 pm&nbsp&nbsp&nbsp&nbsp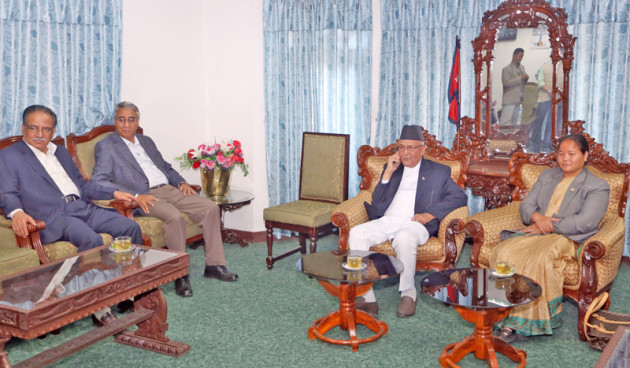 Kathmandu / Jun 5: A meeting called by the Speaker Onsari Gharti Magar with the top three leaders of ruling CPN Maoist and Nepali Congress, and main-opposition CPN-UML have forged a consensus to continue the parliamentary business from tomorrow.
The meeting was held at the Speaker's Office in Singhadarbar today.
The leaders would address the first-round of Parliament session at 1:00 pm. Similarly, the House would also conduct the Prime Ministerial election tomorrow itself.
The main-opposition party CPN-UML have been obstructing the House session against the decision made by Election Commission to hold re-polling in Bharatpur-19.
Meanwhile, the CPN-UML Vice Chairman Bhim Rawal said the party would welcome the Supreme Court's decision on Bharatpur incident. He also said that the party would participate in Prime Ministerial election and vowed to cast vote against NC candidate Sher Bahadur Deuba.
Nepali Congress President Sher Bahadur Deuba has filed his lone candidacy for the post of 40th prime minister of Nepal.
If the circumstances do not change overnight, Deuba is likely to beocme the new prime minister.