CEC rules out possibility of poll postponement
June 13, 2017 | 9:58 pm&nbsp&nbsp&nbsp&nbsp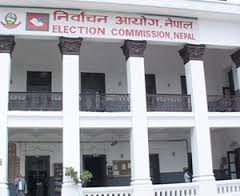 Kathmandu / Jun 13: Chief Election Commissioner (CEC) Ayodhee Prasad Yadav has said the preparations for the upcoming June 28 have been completed.
Speaking at the Reporters' Club today, the CEC said candidacy registration process would start after two days.
On the occasion, he shared that the CEC had made arrangements for voting through 12,000 polling centers of 461 local-levels of four provinces (no. 1,2, 5 and 7) in the second-phase election.
He reiterated that EC had no problem in holding the election on the scheduled date. "But some political difficulties are still seemed to this this connection," he stated, adding, "Some areas are politically cleared to hold the election smoothly, however."
He went on to say that efforts were underway among the government, ruling partners and unsatisfied parties to find an agreement regarding the election. The EC was persistently in touch with the Home Ministry to discuss effective measures to ensure security during the election.
The CEC said the EC had, in case of the surface of election-related disputes including violation of election code, decided to depute a joint-secretarial monitoring team to the area reporting such dispute to deal with the situation, and training for those joint-secretaries to be deputed had started from today.
The micro monitoring team will be deputed on the the basis of the sensitiveness of the electoral areas, according to him.
Giving his views about the request from the unhappy parties for the deferral of poll date, he reiterated that the second-phase election scheduled for June 28 could not be postponed under any circumstances.
"People and voters are fully in favour of the timely election. Its date will not be deferred under any circumstances," he said, urging all not to suppose that it (deferral of election date) would happen. "The EC is fully prepared for the election and is committed for making it successful."
Bearing in mind the possibility of occurrence of natural adversities triggered by monsoon including rains before and after the election, the EC had made all necessary arrangements for security of voters and safe transportation of ballot boxes. RSS