Major parties-RJPN meeting ends inconclusively
June 14, 2017 | 9:47 pm&nbsp&nbsp&nbsp&nbsp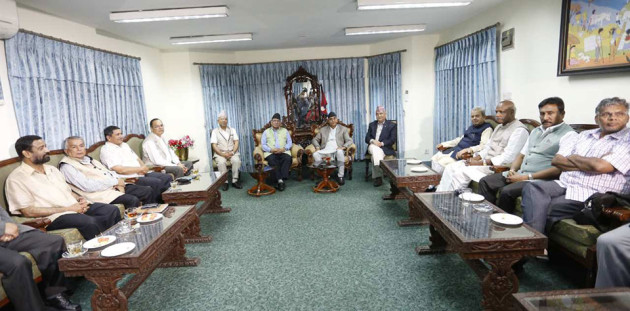 Kathmandu / June 14: The meeting between the ruling coalition, main opposition CPN-UML and the agitating Rastriya Janata Party- Nepal (RJPN) ended inconclusively on Wednesday also.
The meeting held at the chamber of the Speaker in Singha Durbar failed to reach the consensus as the parties did not budge from their stands.
Talking to the media persons after the meeting, CPN-UML leader Subash Chandra Nembang said that the Prime Minister Sher Bahadur Deuba has reiterated his commitment to hold the election on the slated date adding that there is no possibility of the amendment in the constitution and to increase the number of local units before the election as the Supreme Court has already scrap the vacate.
However the agreement could be made after the election regarding those issues, added Nembang.
Similarly, CPN (Maoist Center) leader Narayan Kaji Shrestha said that the meeting focused to ease the technical hurdles so that RJPN could take part in the election. The RJPN leaders, however, stressed to address all political and technical demands, which is not possible before election, added Shrestha.
He said that the four parties are committed to hold the election on June 28.
Meanwhile, Sharat Singh Bhandari of RJPN said that their party has clearly put forward their demand to the ruling coalition and has urged the government to create the environment to include all the forces in the election.
The meeting is postponed till 10 am on Thursday.
With the second phase of local level elections just two weeks away, Prime Minister Deuba had called the meeting in a bid to bring the disgruntled RJPN on board the elections process.
RJPN called a four-day bandh in Tarai districts demanding constitution amendment prior to the second phase of local level elections.