Ultra-runner and mountaineer Pandit dies in USA
June 18, 2017 | 10:21 pm&nbsp&nbsp&nbsp&nbsp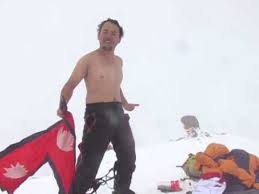 Texas/ June 18: Ultra-runner and mountaineer Sanjay Pandit died in the Mount Denali National Park in the USA. Nepali embassy in Washington D.C. has confirmed that Pandit was descending Denali, the highest mountain of the North America.
Denali's summit is at 6,190 meters and Pandit collapsed due to high altitude at height of 5,334 meter. According to spokesperson of the embassy, Jeevan Prakash Shrestha, the climber did not regain consciousness and was pronounced dead despite emergency interventions was made right after he collapsed. The embassy has already informed to his family, said Shrestha.
Pandit had ascended the tallest peak in the world -Mountain Everest-as well as the tallest peaks in the Europe, Africa and South America among others. He had climbed mountains above 8000 meters including Mt Manaslu, Mt Elbrus of Europe and Mt Fuji of Japan.
Pandit had started his adventure career with ultra-running and had run from Swargadwari in Pyuthan to Kathmandu in 47 hours 20 minutes in 2009 and 200 kilometers from Jiri to Kathmandu in 27 hours in 2010. He had run ultra-distance from Khasa to Kathmandu and Kathmandu to Gorkha.
Following the success, Pandit had started mountaineering career and climbed on the top of the highest mountains in different continents.