EC appeals to all for peaceful electioneering; EC asks Home Ministry to shut educational institutions for 4 days
June 19, 2017 | 9:37 pm&nbsp&nbsp&nbsp&nbsp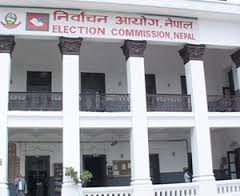 Kathmandu / Jun 19: The Election Commission has appealed to all- political parties, leaders, election candidates and voters- to conduct election campaigning peacefully.
EC requested the political parties to maintain restraint after a clash broke out between the cadres of different political parties resulting in a fatal incident in course of electioneering in Bajura.
The government has also been urged to provide adequate and effective security so that no untoward incidents take place.
While the filing of candidacy was going on under the second round of local level election, clash erupted between the cadres of different parties led to the death of Hansa Bahadur Raut from Dagahi of Chhededaha-5, Bajura.
Injured severely during the clash, Raut breathed his last on the way to a hospital of Martadi, Bajura.
Expressing condolences to the bereaved family members, the EC wished speedy recovery of those injured in the incident.
Meanwhile, the EC expressed grief over injury 10 people received in a bomb blast during the candidacy filing at Bandganga of Kapilvastu, said EC Spokesperson Surya Prasad Sharma.
EC asks Home Ministry to shut educational institutions for 4 days
Meanwhile, the Election Commission on Monday directed Home Ministry to declare public holiday on June 28 in view of the second phase local level elections scheduled to take place on the day in 35 districts of Provinces 1, 5 and 7.
According to EC spokesperson Surya Prasad Sharma, the EC took such decision keeping in view the difficulty in disseminating public services from government and semi-government offices as most of the employees working in such offices will have to be mobilised in the election process.
Furthermore, the EC has also decided to write to the Home Ministry to allow public holidays for four days beginning June 25 in the districts where elections are being held.
The EC said that most of the voting centres of 334 local entities are being set up at educational institutions like school and colleges, therefore it was necessary to shut such schools and colleges during the period.
The EC has also decided to write to the Home Ministry to make necessary arrangements to provide it the premises of public offices like village councils, ward offices, health posts, among others, for conducting the elections, EC spokesperson Sharma said. RSS