KMC to dole out Rs 2.225 m to 32 wards each
June 20, 2017 | 9:14 pm&nbsp&nbsp&nbsp&nbsp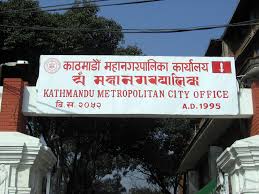 Kathmandu / Jun 20:The Kathmandu Metropolitan City (KMC) has decided to disburse Rs 2.225 million to 32 wards each. The budget will be provided by the end of current fiscal year.
A meeting of the municipal executive of the KMC held on Tuesday decided to dole out the budget to the concerned units to set and implement programs by the end of current fiscal year 2016/17.
"The elected mayor, deputy mayor, ward chairpersons and ward members have expressed commitment to develop infrastructures in the metropolis and expedite people-orientated services in the urban area," Mayor Bidya Sundar Shakya informed. "To fulfill the commitments expressed before the voters, we have disbursed the budget to equally all the wards under five different topics."
According to Shakya, Rs 1 million has been allocated for repair and maintenance of roads and pavements, Rs 700,000 for paving the roads and pavement with stones and bricks, Rs 300,000 for sewage repair, Rs 200,000 for road sanitation and Rs 25,000 for honoring guests.
The programs should be devised and implemented by the end of the fiscal year 2016/17, said Shakya.
He further said that the necessary budget has also been allocated for the salary and allowances of the staffers.
Similarly, the meeting also decided to promote four staffers to the post of deputy directors, form an expert panel to reform existing administrative organizational structure of the metropolis within two months and not to allow 1,500 taxis in the Kathmandu Valley meant for the quake victims of 14 districts.
Similarly, the meeting also decided to hike metropolitan allowance from 10,000 to 12,000 which is being provided to honor octogenarian citizens aged 88 or above, said Shakya.