PM Deuba thanks Nepali people for making 2nd round local polls a success; US welcomes second round of local level elections
June 30, 2017 | 6:37 am&nbsp&nbsp&nbsp&nbsp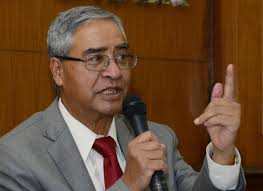 Kathmandu / Jun 29: Nepali Congress President and Prime Minister of Nepal Sher Bahadur Deuba has thanked all the Nepali people for taking part in the second round of local level elections in an enthusiastic manner.
"The first and second round of local elections were conducted in all the 35 districts in Provinces 1, 5 and 7 following the promulgation of the constitution," Deuba said in a press statement issued today.
This local level election has given an opportunity to consolidate and institutionalize the achievements of decades-long democratic struggles.
All the Nepali brothers and sisters took part in the second round of local elections enthusiastically leaving behind their paddy plantation and other urgent works.
Deuba further said that the successful implementation of the constitution will help ensure good governance, social justice, economic prosperity and institutionalize democratic norms and culture in the society.
Meanwhile Deuba also thanked all the civil servants, security agencies, political parties, journalists, national and international observers for making the elections a huge success.
US welcomes second round of local level elections
Meanwhile, the US Embassy in Kathmandu on Thursday has welcomed the successful completion of second round of local level elections commenced in province number 1, 5 and 7 yesterday.
In a statement today, the diplomatic mission has urged all the stakeholders to work together to create a conducive environment for the people of province number 2 to guarantee the same opportunity to peacefully exercise their democratic right to elect local representatives in their areas.
"We strongly encourages the Government of Nepal to permit unrestricted international election observation during this crucial final phase of local elections, in order to enable the international community, including accredited diplomats, to observe and offer support to the outcome of the elections," it said in a statement.
The US diplomatic mission further said they are committed to encouraging a peaceful, inclusive, broadly-supported and credible election process.
The third phase of local polls in province number 2 is slated for September 18.