Nepal good friend of India:Deuba, India ready to support Nepal's development: Modi; Nepal-India deal on eight agreements
August 24, 2017 | 9:05 pm&nbsp&nbsp&nbsp&nbsp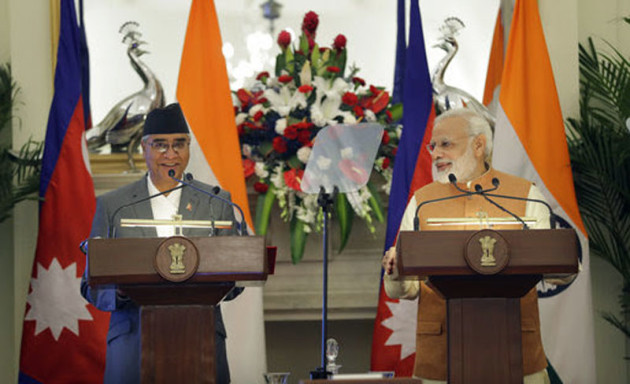 New Delhi / Aug. 24: Prime Minister Sher Bahadur Deuba, who is currently on a five-day state visit of India, said that Nepal is not only a neighbour but also a good friend of India.
Speaking at a joint press conference held following formal bilateral talks and dialogue with Indian Prime Minister Narendra Modi at the Hyderabad House here today, Prime Minister Deuba said for many reasons including the open border, Nepal and India have had important and significant relations. He also expressed gratitude towards the continued solidarity, goodwill and support extended by India to the socio-economic development endeavours of Nepal.
He also extended the Indian side, especially Indian Prime Minister Modi special gratitude for the concern shown towards timely completion of the power transmission lines, Pancheswar project and other projects running with the support of the Indian government in Nepal. PM Deuba said Nepal was now looking forward to foreign direct investment in its water resources, tourism and other sectors as it moves ahead in the phase of economic development following political stability, with the implementation of the new constitution.
The Prime Minister also shared that efforts to amend the constitution to address the citizens concern over some of its contents would continue in the days to come, to thereby move ahead with a common understanding and shared political consensus.
Nepal is also alert towards ensuring that the open border of Nepal with India and its territory are not misused to carry out any activities to cause damage to India, Deuba said.
Also speaking at the press conference, Indian Prime Minister Modi said India was ever ready to support the greater development of Nepal, and is always in favour of a prosperous and peaceful Nepal. Making a short speech in Nepali language at the onset, the Indian Prime Minister said, "We are very happy to welcome Nepal's Prime Minister and the Nepali delegation to India."
He also congratulated Nepal for successful implementation of the new constitution, and the holding of the recent local level elections. RSS
Nepal-India deal on eight agreements
Meanwhile, Nepal and India have signed eight agreements on Thursday. The deal was signed after the bilateral meeting between Prime Minister Sher Bahadur Deuba and his Indian counterpart Narendra Modi in New Delhi.
The two countries have signed MoU for utilizing of housing grant component to support the reconstruction of 50,000 houses, implementation of reconstruction package in the education sector of Nepal and implementation arrangement on cost sharing, schedules and safeguard issues for construction of Mechi Bridge.
Likewise, the countries have agreed on cooperation in the field of standardization and conformity assessment and on implementation of the grant component of India's Post-Earthquake Reconstruction Package in the health sector in Nepal among others