11:55 am auspicious time for Dashain tika; Help desks to be set up for Dashain festival
September 6, 2017 | 9:34 pm&nbsp&nbsp&nbsp&nbsp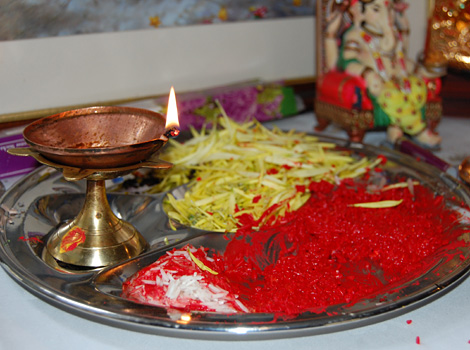 Kathmandu / Sept. 6:The Nepal Calendar Determination Committee has made public the auspicious hour of tika for the coming Dashain festival, on Wednesday.
As per the Committee, the auspicious hour of this Dashain tika is 11:45 am on Saturday, September 30.
Committee Chairman Prof Dr Ramchandra Gautam said the navaratra begins on September 21.
It is the first day of the Dashain, which is called the Ghatasthapana. The auspicious hour of the observing Ghatasthapana is 9:41 am, according to NCDC.
Dashain is celebrated by Hindus living in Nepal and abroad.
Help desks to be set up for Dashain festival
Meanwhile, the Metropolitan Traffic Police Division, along with transport entrepreneurs and civil society representatives, would soon launch a help desk for convenience of passengers in view of the upcoming festivals.
The division would be setting up such desks in 12 places of the Kathmandu Valley with the opening of ticket bookings in advance for long and medium routes for the Dashain festival.
The passengers' help desk, meant for convenience of passengers heading home for the Dashain festival, would be operated in Nagdhunga, Kalanki, Swoyambhu, New Bus Park, Old Bus Park, Chabahil, Tilganga, Koteshwor, Jagati, Lagankhel, and Balkhu, said the Division's Deputy Inspector General of Police Sarbendra Khanal.
Transport entrepreneurs would face action if found carrying passengers more than capacity, forced dropping of passengers on midway, overcharging and selling tickets in black.
However, General Secretary of National Federation of Nepal Transport Entrepreneurs said lack of sufficient space to put passengers' luggage and poor road infrastructures are problems they face during transport. RSS