12 Asian countries to forge common viewpoint on Labor Migration
September 13, 2017 | 8:55 pm&nbsp&nbsp&nbsp&nbsp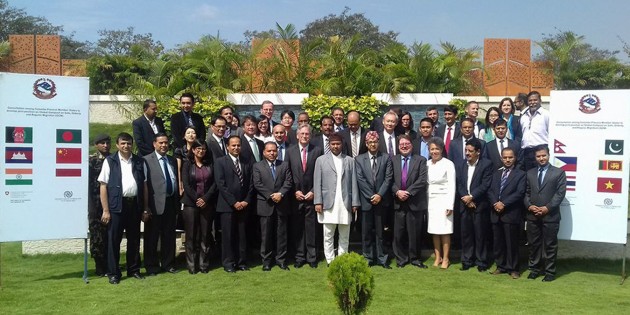 Lalitpur / Sept. 13: Representatives from 12 Asian countries signatory to Colombo Process (CP) Engagement in the Global Compact for Safe, Orderly and Regular Migration (GCM) have convened in Kathmandu to partake in the consultative meeting for forging a common viewpoint on the issue relating to migrants and refugees.
The member countries in CP are Nepal, India, China, Cambodia, Indonesia, Pakistan, Philippines, Sri Lanka, Thailand, Vietnam and Afghanistan.
Representatives from these countries except Afghanistan have assembled in Kathmandu in the two-day meeting.
State Minister for Labour and Employment Dilli Bahadur Chaudhary inaugurated the meeting jointly organized by the International Migration Organization (IOM) and the Swiss Agency for Development and Assistance (SDC).
Nepal currently chairs the CP established in 2003. Nepal has marked its active participation in Abu Dhabi Dialogue. A study shows that around 2.5 million people migrate to other countries from these 12 countries on a yearly basis for employment.
The General Assembly of UN in 2016 pledged to prepare a draft for the international framework for migrants and refugees. The 73rd UN general assembly in 2018 is expected to endorse it.
The UN member states and regional organization have been preparing concept paper in connection to send them to the UN Headquarters for deliberation.
Speaking at the event, State Minister for Labour and Employment Chaudhary underscored collaboration among the 12 countries in CP for addressing the issues relating to migrants and refugees.
He was the viewpoint that if the member countries to the CP could closely collaborate, they could do collective bargaining with the labor destinations in more effective manner.
Similarly, Secretary at the Ministry of Labour and Employment, Laxman Prasad Mainali said that the meeting was held with an objective to prepare framework to raise the issues on migrants and refugees in the international forum.
Likewise, Joint Secretary at the Ministry of Foreign Affairs Bharat Raj Poudel said that there were around 240 million migrants across the world and expressed his confidence that the meeting would promote the good cause of foreign employment and reduce its negative aspects.
Also speaking at the event, Permanent Representative and Ambassador of Nepal to Switzerland Deepak Dhital pointed out the need for the government to be sensitive towards the welfare of the migrant workers considering the remittance and its contribution to the GDP.
Swiss Ambassador to Nepal Jorg Frieden was of confidence that the meeting would help forge a common view point on issues like capacity building, enabling workable environment, security and legal recruitment in view of securing the welfare of the migrant workers. RSS