FPTP vote count concludes, UML largest with 80 seats; UML still ahead in Federal Parliament PR race;  5.18 pc votes invalid: EC
December 13, 2017 | 9:13 pm&nbsp&nbsp&nbsp&nbsp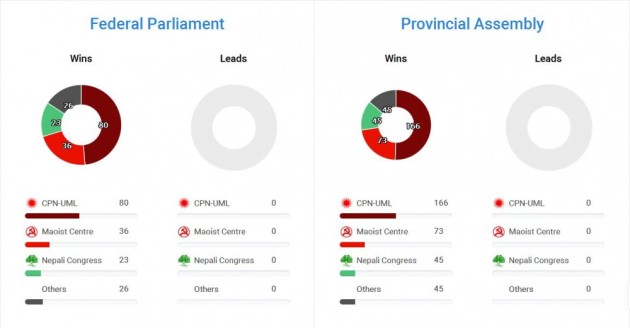 Kathmandu / Dec 13: CPN-UML has emerged as the largest party with the end of vote counts of the first-past-the-post (FPTP) for federal parliament and provincial assembly on Wednesday.
As per the final FPTP result, the CPN-UML has emerged victorious in 80 federal constituencies. The party has won the election in 166 provincial constituencies.
Similarly, the CPN (Maoist Centre) has won in 36 federal constituencies. The party has emerged victorious in 73 provincial constituencies.
Likewise, the Nepali Congress (NC) has won in 23 federal constituencies. The party has been elected in 45 provincial constituencies.
Rastriya Janata Party-Nepal has won in 11 federal and 16 provincial constituencies. While Sanghiya Samajwadi Forum Nepal has registered wins in 10 federal and 24 provincial constituencies.
Meanwhile, Naya Shakti Party Nepal, Nepal Workers and Peasant Party, Rastriya Janamorcha, Rastriya Prajatantra Party and an independent candidate have registered victories in one each federal constituencies.
In provincial assembly, independent candidates have registered wins in 3 constituencies, Naya Shakti Party Nepal in 2, Rastriya Janamorcha also in 2 and NWPP in one constituency.
UML still ahead in Federal Parliament PR race
Likewise, CPN-UML is currently leading the Proportional Representation (PR) vote count for the Federal Parliament followed by Nepali Congress. UML is ahead of NC by 84,414 votes according to the latest update.
So far, of the 6,050,357 votes that have been counted, UML has received 2109088 votes while NC has received 2024674. The Maoist Centre, which had left NC behind in the FPTP seats results, is more than half way behind both the parties at 812,167 votes.
Having secured a neat victory in FPTP results, UML has also been leading the PR race since the vote counting started.
5.18 pc votes invalid: Election Commission
In another note, on an average, 5.18 per cent of the total votes cast were rendered invalid in the House of Representatives election under first-past-the-post (FPTP) system, Election Commission (EC) informed.
Speaking at an interaction programme on Wednesday, Chief Election Commissioner Ayodhee Prasad Yadav said that the number of invalid votes were observed more in the districts of the central Tarai-Madhes compared to the Mountain regions.
According to Yadav, Manang recorded the lowest number of invalid votes at 0.37 per cent whereas number of invalid votes is nearly 9 per cent in districts of Province 2.
Likewise, Kathmandu Valley recorded number of invalid votes at less than 3.81 per cent.
Compared to the previous Constituent Assembly Elections which saw invalid votes at 5.15 percent and 4.94 percent, EC had estimated that the number would fall below 5 percent in Parliamentary and Provincial elections.