Unveil PR parliamentary poll results pronto: Leftist alliance
January 1, 2018 | 9:37 pm&nbsp&nbsp&nbsp&nbsp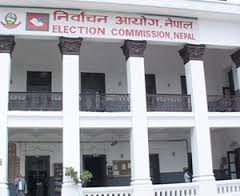 Kathmandu / Jan 01: Leftist alliance has demanded that the results of parliamentary elections under the proportional representation category be published without further delay.
CPN-UML leaders including Bhim Rawal, Subas Chandra Nembang, Maist Center leader Krishna Bahadur Mahara, Barsha Man Pun, on Monday met with Chief Election Commissioner Ayodhee Prasad Yadav and asked him to make public the elections results public immediately.
Speaking at a press conference organized following the meeting, UML Chairman Rawal accused the EC of ignoring the people's mandate. "The government is ignoring the people's mandate expressed in the democratically held elections on the pretext of the formation of National Assembly."
Coming hard on the government, Rawal charged, " The government has neither declared the date for National Assembly elections nor appointed the provincial chiefs. It is just trying to extent the government tenure unnecessarily raising the issue of National Assembly formation."
He further said that the UML is always ready to lend support to sort out the legal hurdles to pave the way for the formation of a new government.
The EC has been saying that it will make the results public only after the formation of the National Assembly.