Khumbu collects Rs 40 million as tourist entrance fees in 3 months
January 3, 2018 | 9:11 pm&nbsp&nbsp&nbsp&nbsp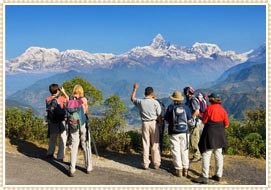 Solukhumbu / Jan 3: The Khumbu Pasang Lhamu Rural Municipality in Solukhumbu has accumulated Rs 40 million as revenue from tourist entrance fees during October, 2017 to December, 2017.
The rural municipality after repealing the Trekkers' Information Management System (TIMS) had taken initiative to collect the charges since October 1, 2017.
"We collected entrance fees of Rs 2000 per person from 22358 tourists who ventured in the region," Spokesperson of the Rural Municipality Lakpa Chiring Sherpa informed.
Earlier a meeting of the Rural Municipality had decided to put an end to revenue collection through TIMS card. The meeting had concluded that the Nepal Tourism Board and Trekking Agency Association of Nepal (TAAN) failed to promote tourism in the Khumbu Region despite collecting millions in entrance fees.
"Following the decision, we discontinued TIMS card and collected entrance fees through our office," Chair of the Rural Municipality Dim Dorje Sherpa said, "We will utilise the collected funds to build necessary infrastructures to promote tourism in the area.
The Khumbu Rural Municipality boasts a wide range of mountains including Mount Everest and Ama Dablam. RSS