All-party meet discusses provincial capitals, appointment of chiefs issues
January 4, 2018 | 9:06 pm&nbsp&nbsp&nbsp&nbsp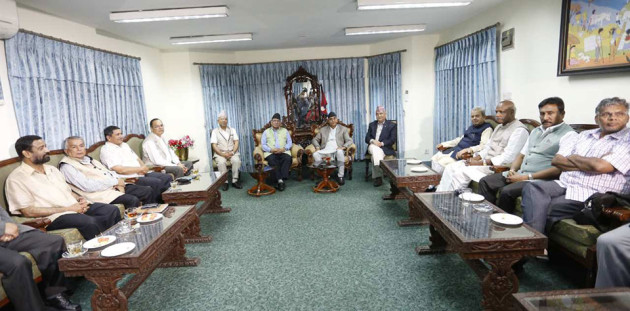 Kathmandu / Jan 4: The government is set to declare the temporary capitals of provinces and hold appointment of province chiefs after carrying out homework as the left alliance leaders failed to give concrete decision on the issue.
In an all-party meeting convened by Prime Minister Sher Bahadur Deuba at his official residence in Baluwatar, Kathmandu today, left alliance leaders urged the government to pave the way for formation of the new government, PM's press coordinator Govinda Pariyar told media. The discussion on the National Assembly election was also held in the meeting.
After the meeting, Nepali Congress senior leader Ram Chandra Paudel told mediapersons that the government would assign temporary capitals of the provinces and the province chiefs after carrying out necessary homework in that connection. He added that the government would fix the date after consulting with the Election Commission.
CPN-UML Vice-Chairman Bhim Bahadur Rawal said that they drew the attention of the meeting towards the delay in handing over the government power and the announcement of the proportional representation election results of the House of Representatives being prevented in the context of new people's mandate.
The UML vice-chairman accused the government of putting pressure on the Election Commission to prevent the announcement of full election results.
CPN Maoist Centre leader Narayan Kaji Shrestha said they apprised the government of the public mandate expressed through the election and that any delay from its side in handing over the power would not be tolerable to them.
Present in the meeting were Nepali Congress President and PM Deuba; NC senior leader Paudel, General Secretary Dr Shashank Koirala; CPN MC Chairman Pushpa Kamal Dahal; NC leaders Bijaya Kumar Gachhadar and Krishna Prasad Sitaula; UML Vice-Chairman Rawal, leaders Subas Chandra Nembang, Deputy Secretary General Bishnu Poudel and Agni Kharel; CPN-MC leaders Shrestha, Ram Bahadur Thapa; Federal Socialist Forum-Nepal leader Rajendra Shrestha; and the presidium member of the Rastriya Janata Party-Nepal Rajendra Mahato, among other leaders.