EC officials informally apprise President Bhandari of EC's activities
January 4, 2018 | 9:07 pm&nbsp&nbsp&nbsp&nbsp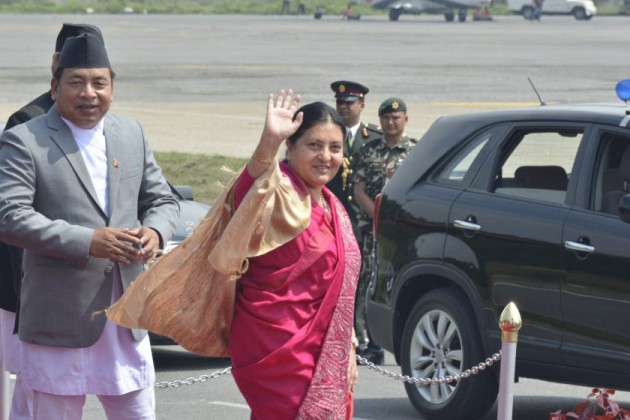 Kathmandu / Jan 4: President Bidya Devi Bhandari and office-bearers of the Election Commission held a meeting at the Office of the President, Sheetal Niwas, today.
A delegation comprising Chief Election Commissioner Dr Ayodhee Prasad Yadav and election commissioners had reached the Office of the President to informally familiarize the President with the activities carried out by the EC in the recent period.
The delegation also pointed out the need for political consensus regarding making public all the results of the House of Representatives and Provincial Assembly elections. The delegation members said that they have been feeling pressure from the protests organized by the left alliance and youth and student organizations close to it, demanding to make public the result of House of Representatives elections under the proportional category.
In response, President Bhandari suggested the Commission to carry out activities by creating an environment conducive to a political consensus after itself taking initiatives if political consensus was required, said President's Chief Personal Secretary, Bheshraj Adhikari.
The left alliance that garnered majority in the election to the House of Representatives and Provincial Assemblies has been demanding to pave the way for formation of a new government without any delay in making the results public while the EC has been saying that there would not be guaranteed of 33 percent representation of women unless the National Assembly election was held. RSS