CPN MC Chair Pushpa Kamal Dahal calls to make country developed and civilised
January 5, 2018 | 9:01 pm&nbsp&nbsp&nbsp&nbsp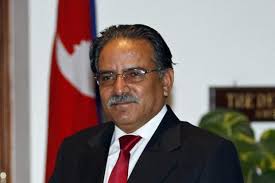 Chitwan / Jan 5: The CPN Maoist Centre Chairman Pushpa Kamal Dahal today stressed the need for making the country known to the world as the most developed and civilised nation through an economic revolution.
While inaugurating the 18th annual general assembly of Chitwan Industry Association, Dahal underscored the need for driving the country towards development and prosperity as the period of struggles for political change has come to an end.
With the promulgation of the new constitution and conclusion of all three levels of elections – local levels, provincial, and parliamentary – the country has witnessed political change in a historic sense and now is the time to move towards economic prosperity, said Dahal.
"If we fail to speed up development process now, not only a single political party, or a single leader will fail, but the entire country will fail," Dahal said, adding, "if we are unable to give pace to development and prosperity with renewed commitment, then a situation will come where there will be nobody else to blame but ourselves."
Dahal shared that institutionalising this change, we must be able to benefit from the development of our two big neighbouring nations.
Saying there is ample possibility of moving ahead with trilateral partnership, he said, "We should strive to give Nepali people a sense of the beginning of a new era within the next five years."
He also expressed that as Chitwan is linked with the economic development of the country, its role and future will be determinant to the economic development of the whole country.
He also added that Chitwan, which is located centrally in the country, could be made the economic hub of Nepal.
At the event, Member of Parliament Krishna Bhakta Pokharel, Provincial Assembly Member Bijaya Subedi, Vice President of the Confederation of Nepalese Industry Krishna Prasad Adhikari, Executive Chairperson of the Industrial Area Management Committee Nanda Kishor Basnet, Nepali Congress Chitwan President Jit Narayan Shrestha, the Association's Senior Vice President Bhesh Raj Duwadi, and Poultry Entrepreneur Guna Chandra Bista, among others shared their views. RSS