Woman dies due to Chhaupadi
January 8, 2018 | 9:06 pm&nbsp&nbsp&nbsp&nbsp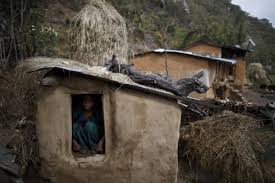 Achham / Jan 8: A 22-year-old woman who was banished to a hut nearby her house in Achham following the monthly period was found dead last night.
She is Gauri Budha, spouse of Birendra Budha of Bhairavsthan of Turmakhand Rural Municipality-3.
Her family went into the hut to check her as she did not wake up until late in the morning. She was the 11th grader at the local Kalikeshwori Higher Secondary School.
She worked for a whole day in a field on Sunday and seemed normal. She had no complaints of any uneasiness, her father-in-law Dambar Bahadur Budha said. Her husband is with the Nepal Police and the family is waiting for his arrival to perform her last rites.
Though the practice of Chhaupadi (the harmful custom that sends women into isolation during the monthly period) is banned by law in Nepal, women continue to fall prey to this deeply rooted ill tradition.
It may be noted that the Women and Children Office last with the support of the 'Save the Children' declared Bhairabsthan Chhaupadi-free zone two years ago.
Last year also, Dambara Upadhyay of Timalsena and Roshani Tiruwa of Gajra had been found dead in the menstruation huts in this district in far-western Nepal.
Chhaupadi was illegal in Nepal since 2005 while it was criminalized in the Civil Code earlier this year. RSS