Provincial chiefs soon on a political consensus: PM Deuba; Prithvi Jayanti observed in Capital
January 11, 2018 | 9:01 pm&nbsp&nbsp&nbsp&nbsp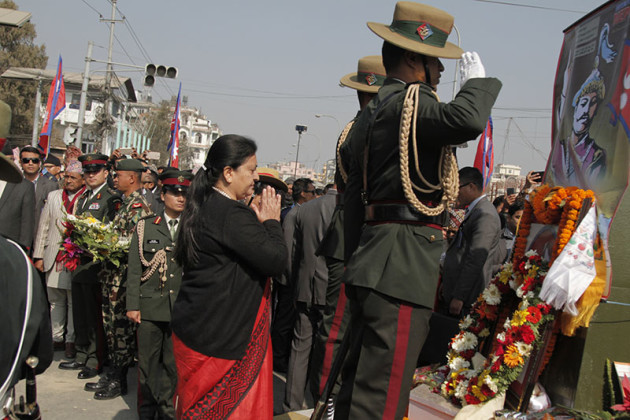 Kathmandu / Jan 11: Prime Minister Sher Bahadur Deuba has said that the government was working to nominate the provincial chiefs after forging a political consensus.
Speaking at a tea reception program organized by the Rastriya Prajatantra Party on the occasion of National Unification Day today in the capital, PM Deuba shared that nominating the provincial chiefs were essential even to administer the oath of office and secrecy to the newly elected provincial parliamentarians.
Prime Minister Deuba stressed on political consensus and unity to strengthen the national unity in a multicultural and multiethnic society.
Similarly, speaking at the same programme, Deputy Prime Minister and RPP chair Kamal Thapa shared that the government decision of announcing public holiday on the national unification day was praiseworthy and has been welcomed by political parties.
On the occasion, former chair of the interim council of ministers Khilraj Regmi, Minister for Information and Communications Mohan Bahadur Basnet, Minister for Defense Bhimsen Das Pradhan, CPN (UML) leader Subas Nembang and high-level officials were present.
The Government has announced public holiday on the occasion of birth anniversary of modern Nepal's unifier Prithvi Naryan Shah and national unification day, on 27th Poush according to lunar calendar. The day has been observed officially for the first time since 2063 BS when the then government decided to cancel the holiday.
Prithvi Jayanti observed in Capital
Similarly, the life-size statue of Prithvi Narayan Shah was garlanded by President Bidya Devi Bhandari and Prime Minister Sher Bahadur Deuba at a ceremony held in front of the west gate of Singha Durbar today.
Marking the 296th Prithvi Jayanti, birth anniversary of Prithvi Narayan Shah, and the National Unification Day, the celebration took place outside Singha Durbar today.
Deputy Prime Minister Kamal Thapa, Minister for Culture, Tourism and Civil Aviation Jeetendra Narayan Dev, Minister for Women, Children and Social Welfare Bikram Bahadur Thapa, Minister for Supplies Jayanta Chand, Chief of the Army Staff Rajendra Chhetri, the Chancellors, Vice-chancellors and Member Secretaries of various academies, Nepali Congress leader Dr Ram Sharan Mahat, the Chiefs of the Nepal Police and the Armed Police Force, and government high officials also garlanded the late king's statue.
Likewise, commemorating the occasion, representatives of various organisations, and members of the general public offered bouquets and garlands at the statue of the Unifier of modern Nepal.
A contingent of the Nepali Army offered a guard of honour to the President. Prithvi Jayanti and the National Unification Day is being celebrated with much enthusiasm and joy from this year after the government announced a public holiday on this day after a gap of 11 years.