Country has entered into new era of economic prosperity: VP Pun
January 11, 2018 | 9:00 pm&nbsp&nbsp&nbsp&nbsp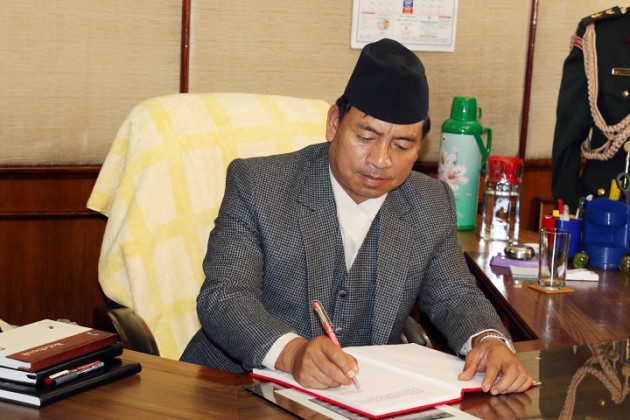 Chitwan / Jan 11: Vice-President Nanda Bahadur Pun has said that the country has entered into a new era of economic prosperity.
Inaugurating the Ratnanagar Festival at the proposed regional stadium at Ratnanagar today, Vice-President Pun said that this period is the era of economic prosperity as political stability has been established in the country by ending transition.
He further said that prosperity was not possible without investment-friendly environment and political stability. The Vice-President expressed the belief that a stable government would be formed in the center and provinces as per the new mandate and investment-friendly environment would be created along with political stability.
Saying Nepal is the best investment-friendly country in the world, he claimed that Nepal is the virgin land for investment.
Vice-President Pun stressed that means and resources available in the country should be utilized in a proper manner to achieve prosperity. He also pointed out the need of attracting foreign investment in the country.
VP Pun urged the government, private and cooperative sectors to increase investment in major sectors for country's prosperity as well appealed to the private sector to play the role of bridge to attract foreign investment.
He also expressed commitment to draw the government's attention to the feasibility study to make Chitwan as Special Economic Zone. He also lauded the special contribution of Ratnanagar for the promotion and protection of Chitwan's cultural, social and historical heritage.
Similarly, a member of House of Representatives, Surendra Pandey, said that all should be serious as country's economy is at risk due to delay in the formation of a new government. He also urged the incumbent government to handover the power soon. The Festival will run till January 21. RSS