Preparations for an auto village in Pokhara
October 12, 2019 | 5:42 pm&nbsp&nbsp&nbsp&nbsp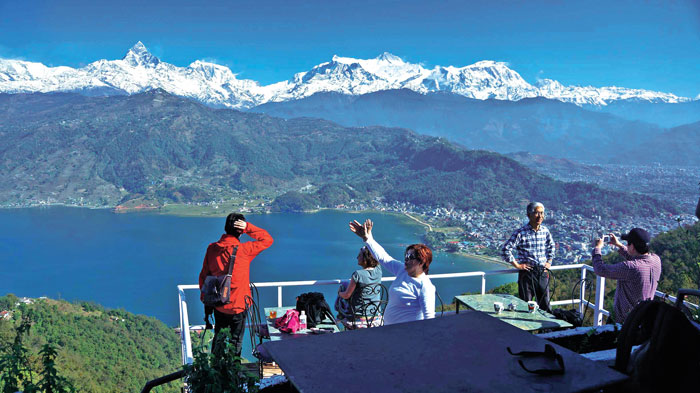 Pokhara / Oct 12: The Capital of Gandaki Province, Pokhara is planning to build an "auto village" in the city. Disorganized vehicle and motorcycle workshops on both sides of the road right from the entry point of Pokhara and the roads inside the city have made the city look ugly, dirty, and malodorous. Pokhara Metropolis with a purpose to manage the "auto business" and workshops has prepared to make an auto village in the city.
These workshops and auto businesses are found in major market areas like Sabhagriha Chowk , Buddha Chowk and Nagdhunga. However, People can also observe circulation and sale of scrap and rubbish centers in same areas due to which Pokhara is not only looking ugly but is also struggling to manage the offensive odor.
To manage the situation, Pokhara Metropolis has proposed to make an auto village. Ward Chairperson and spokesperson for Pokhara Metropolitan City, Dhanbahadur Nepali said that though the actual work hasn't started, a proposal to build an auto village was made and the metropolis is now looking for possible areas for the auto village. According to him, a technical team has been searching for possible places for the auto village. According to spokesperson Nepali, essential questions like number of auto businesses in different municipalities and the area required for such auto businesses have become important at this stage. The technical team has been given the responsibility to select an area and submit an impact assessment report to the metropolis, according to Nepali.
According to Nepali, the metropolis has advised building two or three auto villages in the city, one in Lekhnath area and other two in Pokhara. The local auto dealers association is positive about the idea, said Nepali. Head of the association, Chandra Kunwar said that the idea of an auto village was forwarded by the association a long time ago but now the government is taking action after many years. Kunwar added that an auto village would be appropriate in Leknath area, around the regional bus park area. The new auto village should consist of petrol pumps, showrooms for spare parts and tires of auto, recondition houses. Kunwar added that the auto village should be built on an area beg enough to accommodate at least 3,000 cars and bikes.