Italian apple gives new hope for Jumla farmers
October 13, 2019 | 9:04 pm&nbsp&nbsp&nbsp&nbsp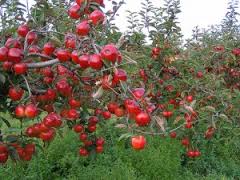 Jumla / Oct 13: Tilak Buda Thapa of Chandannath Municipality of Jumla is busy these days harvesting Italian apples grown in the land of Chandannath temple. His days are spent in cultivating apple plants, showing traders around the apple orchard, and selling them his produce. His routine changed three years ago with the introduction of the new apple variety in the district, which caused sudden increase in the trade of apple farming.
"The apple is of new variety, because of which people come to visit the apple gardens and taste the fruit. More farmers are interested in farming apples these days," Buda said. Different types of Italian apples including red, golden, red chief, and Fuji of are being grown in Jumla nowadays. People come from all over in significant numbers to observe Buda's orchard that is located at the center of the district headquarters, Khalanga. A total of 2,700 apple saplings were grown in the orchard, of which 2,200 apple trees have bore fruits. A single tree has bore as much as 32 kilograms of apples, according to Buda. "We have limited apple production to 10 kilograms from a single tree. If a tree bears more apples, it is hard to protect the tree," he said.
Sushil Devkota of Chandannath Municipality has leased 10,000 square meters of Guthi land for farming of Italian apples. The variety of apple is appropriate for the weather of Jumla, according to farmers and experts. Farmers are also testing cultivation of Italian apples in remote villages.
Farmers and traders like this variety of apple as it looks attractive, is sweet in taste, and is hard because of which it has a longer storage life.
"This time, five quintals of apple have already been sold in the markets of Surkhet and Nepalgunj," Devkota said, adding: "The demand for this apple is increasing. Although apple farming needs hard work, it has great prospects."
In his orchard, Devkota has 1,300 apple trees. He sends 'A' and 'B' grade apples to the market for consumption as fruits, and sells 'C' grade apples for use in making apple brandy.
Traders use different types of packaging and labeling for Italian apples grown in Jumla. Farmers in Guthichaur and Tatopani rural municipalities are also cultivating apple. As per the farmers, as much as 10 tons of Italian apples are produced annually. Traditionally, local apples of Jumla are harvested in September whereas the appropriate harvesting time for Italian apples is November.
Local Jumli apples find the market during Dashain and Italian apples find the market during Tihar. Farmers are attracted to the variety as it bears fruit within a year of plantation. The traditional Jumli variety bears fruits only after three to four years of plantation.
The 'A' grade apples were sold at Rs 150 per kilogram in the orchard and 'B' grade apples were sold at Rs 100 per kilogram. Jumli apples are being sold at Rs 50 per kilogram.
The success of Italian apples, first brought in the district to test feasibility, has elated farmers. They say that if apple farming could be expanded, it would be a good source of income for the district.