11:55 am auspicious time for Bhai Tika
October 20, 2019 | 9:24 pm&nbsp&nbsp&nbsp&nbsp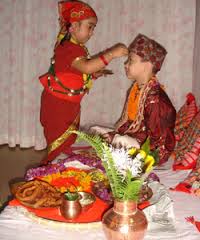 Kathmandu / Oct 20: The Nepal Calendar Determination Committee has announced the auspicious time for receiving and offering 'Bhai Tika' on the occasion of the Tihar festival this year.
Chairperson of the committee Prof Dr Ram Chandra Gautam was quoted in the Rastriya Samachar Samiti as saying, "11:55 am is the most auspicious time for the same."
The Tihar festival will be celebrated from October 25 to October 29 this year.
The Kaag (crow) Tihar falls on October 25, Kukur (dog) Tihar on October 26, Laxmi Puja on October 27, Govardhan Puja, Gai Puja and Mha Puja on October 28 and Bhai Tika on October 29.