PM Oli lays foundation stone for Nepal's first-ever tunnel project
October 21, 2019 | 8:10 pm&nbsp&nbsp&nbsp&nbsp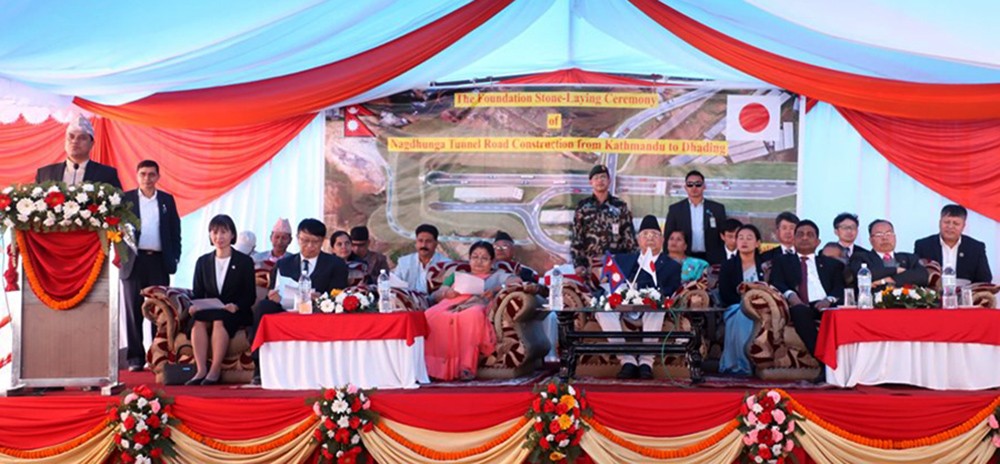 Kathmandu / Oct 21: Prime Minister KP Sharma Oli has laid the foundation stone for Nagdhunga-Sisnekhola tunnel way on Monday. This is the first-ever tunnel project being constructed in Nepal.
Amid a program at Chandragiri-1, Totepakha, the prime minister also unveiled the stone inscription at the site which reads about the much-awaited project. The project is expected to help ease the movement of vehicles in and out of Kathmandu valley.
The estimated cost of the project is Rs 22 billion. Of the total investment, Japan International Cooperation (JAICA) will extend a concessional loan of Rs 16 billion at an interest rate of 0.01 percent. The government of Nepal will manage remaining funding for the project.
Nearly Rs 6 billion will be distributed to affected people from Chandragiri 1, 3 and 5 as compensation. 85 percent of total compensation has been distributed so far.
According to Director of Tunnel Way Construction Project, Shaym Prasad Kharel, the 5.56-km tunnel way along with the approach way will be a breakthrough in the infrastructure development of Nepal.
Two small flyovers will also be built at Totepakha and Satungal, said Kharel.
Earlier, an agreement was signed with Hazama Ando Corporation, a Japanese company for its construction on September 23 under the project, a local production collection center (service center) will also be set up.