Case filed against 13 immigration officers
October 22, 2019 | 9:06 pm&nbsp&nbsp&nbsp&nbsp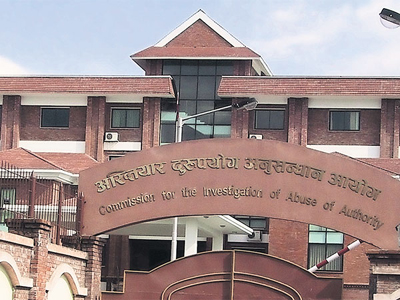 Kathmandu / Oct 22: The Commission for Investigation of Abuse of Authority (CIAA) has filed a case against 13 government officials at the Special Court on Tuesday on the charge of abuse of authority.
The officials include Immigration Officer at the Tribhuvan International Airport Kamal Prasad Parajuli. They have been charged of working with middlemen to provide visit VISA of various gulf countries including Qatar for foreign employment.
Officer Parajuli has been charged of shutting down the intra-network of his office to issue departure-permit to women passengers without required official documents. "He was found to have worked with other officers of the TIA immigration to provide departure permit to 248 persons," CIAA Spokesperson Pradip Kumar Koirala said.
Others involved in the irregularities include TIA immigration office officers Manhari Baral, Sailendra KM, Toran Parajuli, Chakra Bahadur Shrestha, Manoj Kumar Pokharel, Jagdish Chandra Nepali, Bijaya Sapkota, Sailendra Dhakal, Padam Prasad Bajgain, Bir Singh Bhandari, computer operators Roshan Gautam and Bhoj Prasad Neupane. They have been charged of raising Rs. 2.48 million as bribe money at the rate of Rs. 10,000 per person.
Likewise, the CIAA has filed a case of corruption against the then District Education Officer Dhan Prasad Pokharel on the charge of misusing government funds while carrying out infrastructure development of the Janajagriti National Primary School in Bagadhi rural municipality-3 of Bara district. Then accountant, school management committee chair, acting headteacher of the school and engineer and sub-engineer involved in the act have also been named in the charge sheet filed at the special court today. RSS