Visit Nepal Year officially inaugurated amid Grand Ceremony
January 1, 2020 | 10:15 pm&nbsp&nbsp&nbsp&nbsp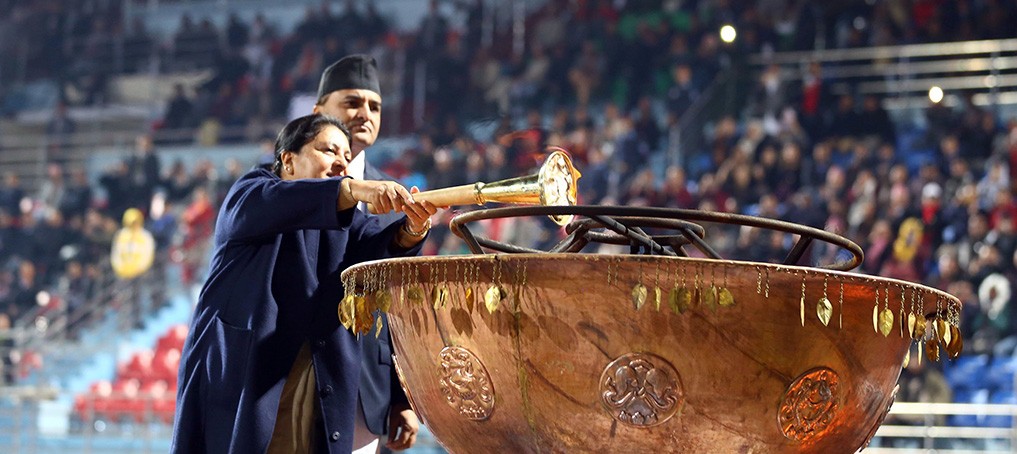 Kathmandu, Jan 1: The Visit Nepal Year 2020 has been officially inaugurated amidst a special ceremony held at Dasarath Stadium this evening.
The VNY 2020 is being observed as a national festival with a target to bring in 2 million tourists, with a determination to establish tourism sector as the major foundation of Nepal's economic prosperity.
President Bidya Devi Bhandari inaugurated the VNY 2020 amidst a grand ceremony held at the Stadium. Also present at the function were the Chief Justice, the National Assembly Chairman, former Prime Ministers, political party leaders, dignitaries from various countries including tourism ministers, heads of constitutional bodies, heads of diplomatic mission, members of parliament and ministers.
In his welcome speech, Minister for Culture, Tourism and Civil Aviation Yogesh Bhattarai said that the VNY 2020 was only an entry point and that the government was preparing to observe the coming decade as the tourism decade.
Prior to the official inauguration, march past by associations related to the tourism sector, social organisations were held while the Nepal Army, Nepal Police and Armed Police Force made a special presentation. Renowned musical bands of Nepal also performed on the occasion.
The VNY 2020 was also officially inaugurated in all the seven State today including in Biratnagar of State no. 1, Janakpur in State no. 2, Suraha, Chief in State no. 3, Pokhara in Gandaki State, Thakurdwar, Bardia in State no. 5, Bulbul lake in Karnali and Dhangadi in Sudur Paschim State.
Also speaking on the occasion, VNY 2020 Secretariat Coordinator Suraj Baidya said the inaugural ceremony was focused on highlighting Nepal's culture, heritage, costume and lifestyle while promoting tourism in the country.
Basic Character of Nepali Society is 'Atithi Devo Bhaba', says PM Oli
Prime Minister KP Sharma Oli today said Visit Nepal Year, 2020 could draw the global attention to minimising climate change risks apart from promoting tourism of Nepal.
In his address to the meeting of tourism ministers of various neighbouring countries including India and China, who have arrived in Kathmandu to participate in the inauguration of Visit Nepal Year, 2020, PM Oli said the issue would be drawn to the world through the Sagarmatha Sambaad slated for the first week of April, 2020 in Nepal to hold a multi-stakeholder dialogue on climate change.
The meeting held at Prime Minister's official residence in Baluwatar was attended by Representative of the Ministry of Culture and Tourism of the People's Republic of China, Wang Xiaofeng, Minister of State for Culture of India, Prahlad Singh Patel, Minister for Hotels and Tourism of Myanmar, U Ohn Maung, minister of Jamaica and director generals of tourism departments of Bhutan, Cambodia and Qatar.
Stating that Nepal has been pursuing prosperity alongside social justice and equality, ending political inequality following big achievements in the country, he said the country's national campaign is speedy economic growth rate, and it wanted to increase the gross domestic product through tourism.
"Basic character of Nepali society is 'atithi devo bhaba (guests are god)'. The society here is good and helpful to tourists," he said. He also pointed out climate change risks as world's challenges, stating that world's attention has turned to the damage to Himalaya's beauty due to climate change.
On the occasion, Minister for Foreign Affairs, Pradeep Kumar Gyawali expressed the hope that the Visit Nepal Year, 2020 helps make Nepal known to the world and promote its tourism, maintaining that nature, culture and adventure activities are specialties of Nepali tourism. RSS