Minister Baskota highlights need of 'Golden Era' for Journalism
January 8, 2020 | 8:48 pm&nbsp&nbsp&nbsp&nbsp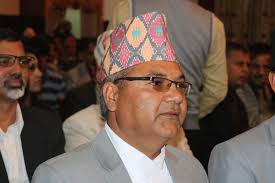 Kathmandu / Jan 8: Minister for Communications and Information Technology, Gokul Prasad Baskota, has said the incumbent government caused no threat to freedom of the Press.
In his address to a programme organised by the Federation of Nepali Journalists (FNJ), Bhaktapur on the occasion of its 23rd establishment day here today, the Government Spokesperson made it clear that he would resign from his post to come to the street if situation arises under which press freedom was squeezed.
He claimed that media biasness was dominating as views intended for something were being presented differently in media.
"The tendency of misinterpretation of opinions out of a biased mentality has become dominant in the media; I have a long experience of practicing journalism and I can realise aspirations of journalists, journalism be practiced by abiding by its code of ethics."
Stating the government had not dreamt of 'prosperous Nepal, poor journalism', the Minister called for bringing a golden era for journalism. "Onwards, commission journalism does not work, it should be professional and based on facts."
Communications and Information Technology Minister assured that the Media Council Bill would not be passed neglecting the journalists' rights and interests.
He said the Journalism Welfare Fund of Rs 53.4 million has been set up after he became the minister and this fund would be increased to Rs 100 million. Stating it was wrong to practice journalism based on doubts, he said the wrongdoers must be punished.
Minister Banskota reiterated that journalism should be made more credible and investigative and urged journalists not to write news with biasness. He also underscored the need of raising journalism beyond what he called 'praise and sycophancy, mission and party-line' and linking it to the 'Prosperous Nepal, Happy Nepali' campaign.
FNJ central president Govinda Acharya argued that the government has formed a committee and was holding discussions for revising the Media Bill that 'constricted the Press' after the FNJ piled up pressure for the same.
FNJ vice-president Dilip Thapa Magar and FNJ Bhaktapur chapter president Pushkar Raj Budhathoki called for 'correcting' the bills that have been brought with the intention of muzzling the press.
On the occasion, Amar Bhuju was presented with the Maiyadevi Silpakar Memorial Journalism Award carrying a purse of Rs 2,500 and Dhruba Madhikarmi with the Bhagawan Maharjan Memorial Award which carries a purse of Rs 10,000. Bhuju is the editor of the 'Dabab' weekly and the FNJ Valley Province secretary.
Bhuju handed the prize amount he received to the FNJ Bhaktapur chapter for its institutional development by adding Rs 2,500 from his side.RSS