Finance Minister bats for joint effort for development of Industrial Sector
January 13, 2020 | 8:14 pm&nbsp&nbsp&nbsp&nbsp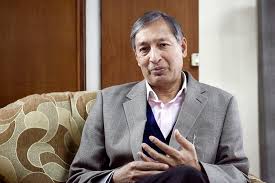 Kathmandu / Jan 13 : Minister for Finance Dr Yuba Raj Khatiwada has underlined the need for inclusive investment in the industrial sector for the development and prosperity of the country.
At a programme themed 'Mixed Economy and Gender-friendly Investment' organized by the Samriddhi Foundation here today, Minister Khatiwada urged the banks and financial institutions (BFIs) to consider increasing their investment in the small scale and medium enterprises (SMEs).
Minister Khatiwada said,"Currently the big banks are funding the big industries while small scale industries are being funded by the cooperatives. The BFIs should pay attention to loan disbursement to the SMEs in an easy and convenient manner for inclusive growth of the industrial sector."
Urging for unified efforts among the government, private sector and cooperatives, the three pillars of economy, the Minister shared that the government has formulated policies incorporating the spirit of inclusive development.
Khatiwada viewed that the available resources should be mobilized accordingly for the same.
According to him, the cooperatives and financial sector in Nepal had encouraging participation of women and recommended the women entrepreneurs to exploit the usage of technologies for being more relevant and competitive.
The Foundation has been conducting programmes that generate discourse on the minimizing gender-based inequality that is seen as a big hindrance for achieving development and prosperity.RSS