Martyrs' Week begins in capital
January 24, 2020 | 9:35 pm&nbsp&nbsp&nbsp&nbsp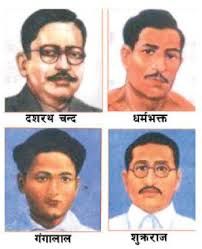 Kathmandu / Jan 24: The Martyrs' Week began on Friday. A program was organized today in the capital in commemoration of Sukra Raj Shastri who was executed by the autocratic Rana regime at Pachali in Kathmandu on Jan 23, 1941.
Another program will be organized at Siphal on January 27 to pay tribute to martyr Dharma Bhakta Mathema. Likewise, martyrs Ganga Lal Shrestha and Dasharath Chand will be remembered on January 29 by organizing a separate program at Shova Bhagawati in the capital.
Every year, Magh 16 in the Nepali calendar is marked as the National Martyrs' Day in the commemoration of those who were executed by the autocratic Rana regime and those who lost their lives during the country's various democratic struggles.
Separate programs will be held at Sahid Park, Lainchaur, Sahid Gate, Sundhara on January 30 to pay homage to the martyrs.
Martyrs Shastri and Mathema were hanged on January 24, 1941, at Pachale, Teku. Martyrs Shrestha and Chand were shot dead by the Rana rulers for waging a struggle at the people level to oust the Rana regime on January 25 in the same year at Shova Bhagawati in the capital. RSS