There won't be shortage of fuel, food stuffs in country, says Minister Bhatta
March 6, 2020 | 10:42 pm&nbsp&nbsp&nbsp&nbsp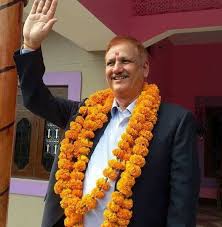 Kathmandu / Mar. 6: Minister for Industries, Commerce and Supplies Lekhraj Bhatta said on Friday that there won't be shortage of liquefied petroleum gas (LPG) for one month in the country.
At a press meet held at his ministry, Minister Bhatta said that there won't be shortage of foodstuffs for six months, salt for 10 months and LPG gas for one month.
The minister's statements came amidst speculations over a possible shortage of foodstuffs and LPG gas in the country as coronavirus is spreading various countries.
Bhatta said that there has not been a price hike in any foodstuffs except garlic.
Similarly, the government has already intensified the market inspection in Kathmandu and various parts of the country to check the black market.
He urged one and all not to panic and spread false news about the possible Coronavirus outbreak.