Sherpas fixing two ropes to ease Everest traffic jam
March 8, 2020 | 10:05 pm&nbsp&nbsp&nbsp&nbsp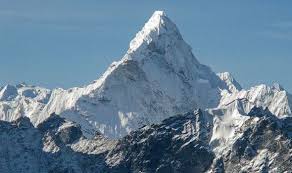 Kathmandu / Mar. 8: In an attempt to ease traffic snarls on Everest during peak climbing season, the Ministry of Culture, Tourism and Civil Aviation is preparing to fix two ropes in a section of Everest in the upcoming spring season to facilitate the climbers.
Considering the increased flow of climbers, the Department of Tourism (DoT) has asked the icefall doctors to fix two ropes wherever they can fixes alternative ropes for climbers.
The department instructed rope-fixing team of icefall doctors to fix two-way ropes from Lhotse Face (6700 meter) to Geneva Spur (7900 meter) so that climbers can choose either of the two routes. The department took such decision after consulting with the stakeholders.
"After discussions with the stakeholders, the rope fixing team is fixing two ropes in a section of Everest this season," said Director at the Department Mira Acharya.
However, it is yet to be seen if fixing the additional rope will ease traffic congestion on Everest, which has gained notoriety for the world's highest traffic jam. Most climbers face traffic congestion just beneath the summit where it is not possible to fix an alternative rope.
The tourism officials say this could help making the ascent and descent of climbers faster. Four Sherpas and additional logistics have been arranged this time in order to fix the alternative rope.
The icefall doctors have been fixing only a single rope from Camp II to the summit so far.
Traditionally, Sherpas deployed by the Sagarmatha Pollution Control Committee (SPCC) clears the way up to Camp II whereas Expedition Operator's Association fixes rope from Camp II to the Everest summit.
The SPCC transports ladders, ropes and logistics to the Everest Base Camp from lower areas. Those ropes and logistics are airlifted to Camp II as the section between the base camp and Camp II is treacherous and full of risks.
The number of Everest climbers has been increasing in recent years. Last year, the DoT had issued expedition permits to 381 climbers. If pre-confirmations provided by the expedition operators are anything to go by, more climbers are coming to climb Everest in this spring season that begins in April and lasts until May.
Apart from the climbers who have obtained permits, Sherpa guides and support staff need to go to the top within a short window after weeks-long acclimatization. Due to this, Everest is getting crowded in recent years.
A total of nine climbers had died last year. Some of the deaths were said to be linked to traffic jams.
Even as coronavirus has spread to more than 90 countries, tourism ministry and expedition operators are determined to organize Everest expedition in the upcoming season as well.
Informed sources say they are preparing to seek travel details of climbers before issuing permit to the climbers. But tourism ministry has no concrete plan to contain the deadly virus in case it spreads in the Everest region when more than 1000 people from more than 40 countries gather there in the spring season. RSS