Traffic police to take action against public vehicles not displaying fare rate list
October 31, 2020 | 7:20 pm&nbsp&nbsp&nbsp&nbsp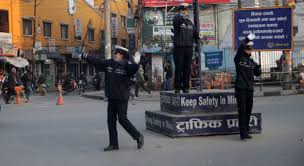 Kathmandu / Oct 31: The Metropolitan Traffic Police Division (MTPD) has warned of action against passenger vehicles if they fail to put on display the list of fare rates.
The MTPD made some 429 public passenger vehicles in the Kathmandu Valley to publish the list of fares on Friday and the campaign was continued on Saturday as well.
According to Bhim Prasad Dhakal, Senior Superintendent of Police (SSP) at MTPD, a decision to this effect was taken in order to maintain uniformity in the rate of fares being collected by the passenger vehicles.
Following the government's decision of allowing passenger vehicles to collect extra 50 percent of fare amid the COVID-19 pandemic, public vehicles were collecting the fare haphazardly. Similarly, public vehicles have been found carrying the passengers beyond their capacity and flouting the rule of seat reservation for women and disabled.
The MTPD has also urged the general public to dial 103 to report any problems or to seek any information.