COVID-19 update: 2,508 new cases, 2,264 recoveries and 17 fatalities in 24 hours
October 31, 2020 | 7:21 pm&nbsp&nbsp&nbsp&nbsp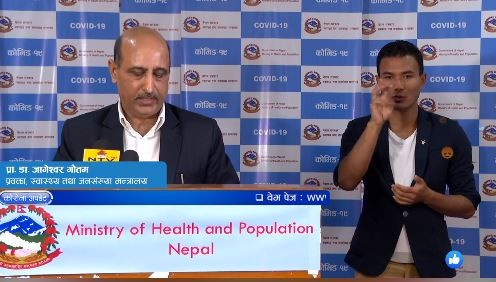 Kathmandu / Oct. 31: With 2,508 new cases of the novel coronavirus infection confirmed on Saturday, the national COVID-19 caseload has reached 170,743.
Currently, there 38,584 are active cases of COVID-19 across the nation. Meanwhile, 2,264 COVID-19 patients receiving treatment institutional isolation or staying in home isolation recovered from the infection in the last 24 hours. Nepal has now recorded 131,222 cases of recoveries.
As many as 17 people succumbed to the deadly virus in the last 24 hours and with this, the national COVID-19 related death tally has reached 937.
Kathmandu Valley recorded 1,357 new cases
The Kathmandu Valley witnessed 1,357 new cases of the novel coronavirus disease (COVID-19) on Saturday, taking the Valley's COVID-19 case tally to 76,348.
Of the 2,508 new cases recorded across the country, 1,357 were detected in the Valley alone.
According to the latest data from the Ministry of Health and Population (MoHP), 1,113 people in Kathmandu, 49 in Bhaktapur and 195 in Lalitpur districts tested positive for COVID-19 in the past 24 hours.
There are currently 16,890 active cases in Kathmandu, 1,151 in Bhaktapur and 2,303 in Lalitpur districts.
As of Saturday afternoon, Kathmandu district has recorded the highest number of 219 COVID-19 death cases in the Valley followed by Bhaktapur and Lalitpur with 66 and 60 deaths, respectively.